Exploring Pet Friendly Parks In Portland, Oregon
With one of the most extensive collections of pet friendly urban parks in the country, Portland, Oregon is a top pet friendly vacation destination. Its quaint neighborhoods and delightful natural spaces are sure to delight you and your pup!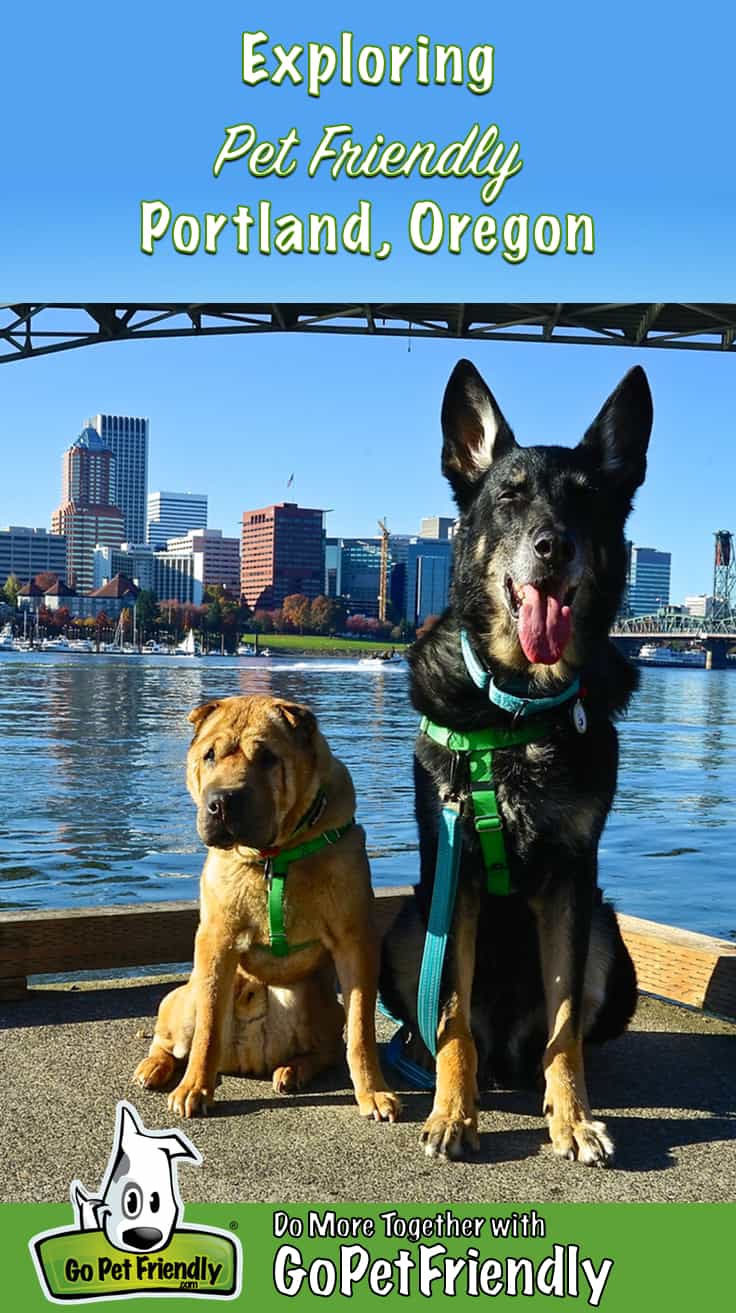 For people traveling with pets, Portland is a fantastic vacation destination. Each of the downtown neighborhoods has a unique vibe, and they're connected by a massive network of parks. In fact, Portland boasts more than 10,000 acres of natural areas and parks. You'd need to visit three a day for nearly three months to see them all!
From magnificent Forest Park to tranquil green nooks tucked among the skyscrapers, the pet friendly parks Portland are a breath of fresh air. Exploring a place where nature is woven into the very fabric of the city means you and your pet will find treasures around every corner!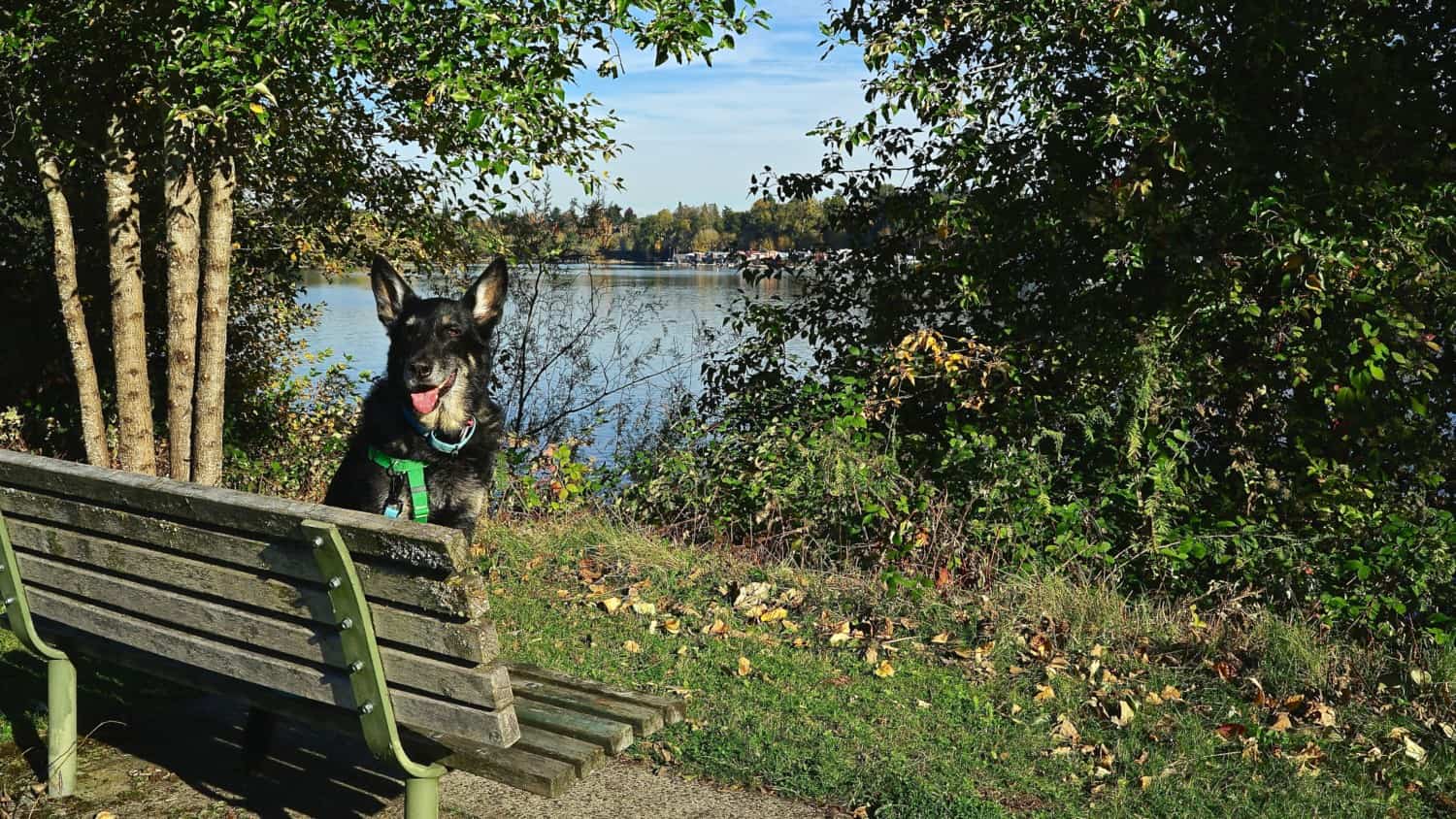 No matter which parks you choose to visit, you can't go wrong. There's literally something for everyone. Of course, we have our favorites, but it's also fun to try a couple of new ones on each trip.
The best news is that Portland's parks are super pet friendly! As long as your pets are leashed and any waste is disposed of properly, you're welcome to explore all the parks together. And more than 30 have designated off-leash areas!
Pet Friendly Parks In Portland, Oregon
Visiting a city for the first time can be a bit overwhelming. So, it's nice to ease into the experience. Parking is also easier on the Eastbank. So start your pet friendly Portland adventure at the Vera Katz Eastbank Explanade!
Eastbank Esplanade
The Eastbank Esplanade is the first pet friendly park we ever visited in Portland, and it's still one of our favorites. The views of Portland's famous bridges and skyline are unbeatable. And the public art and native plants make this walk even more stunning.
This floating walkway extends for 1.5 miles along the banks of the Willamette River. When you reach the end, you can either explore the funky east side neighborhoods, or cross the river to see more of downtown Portland.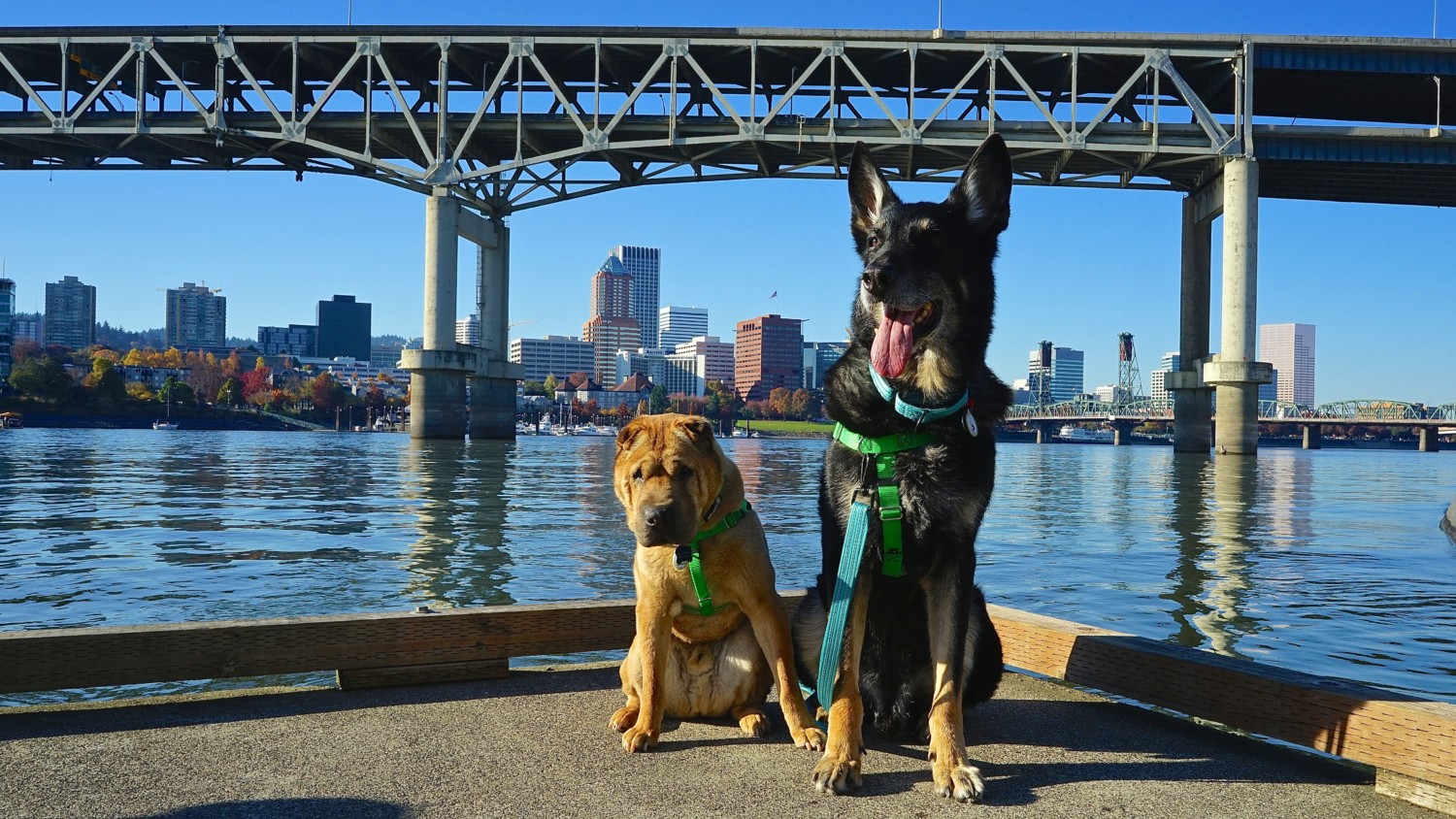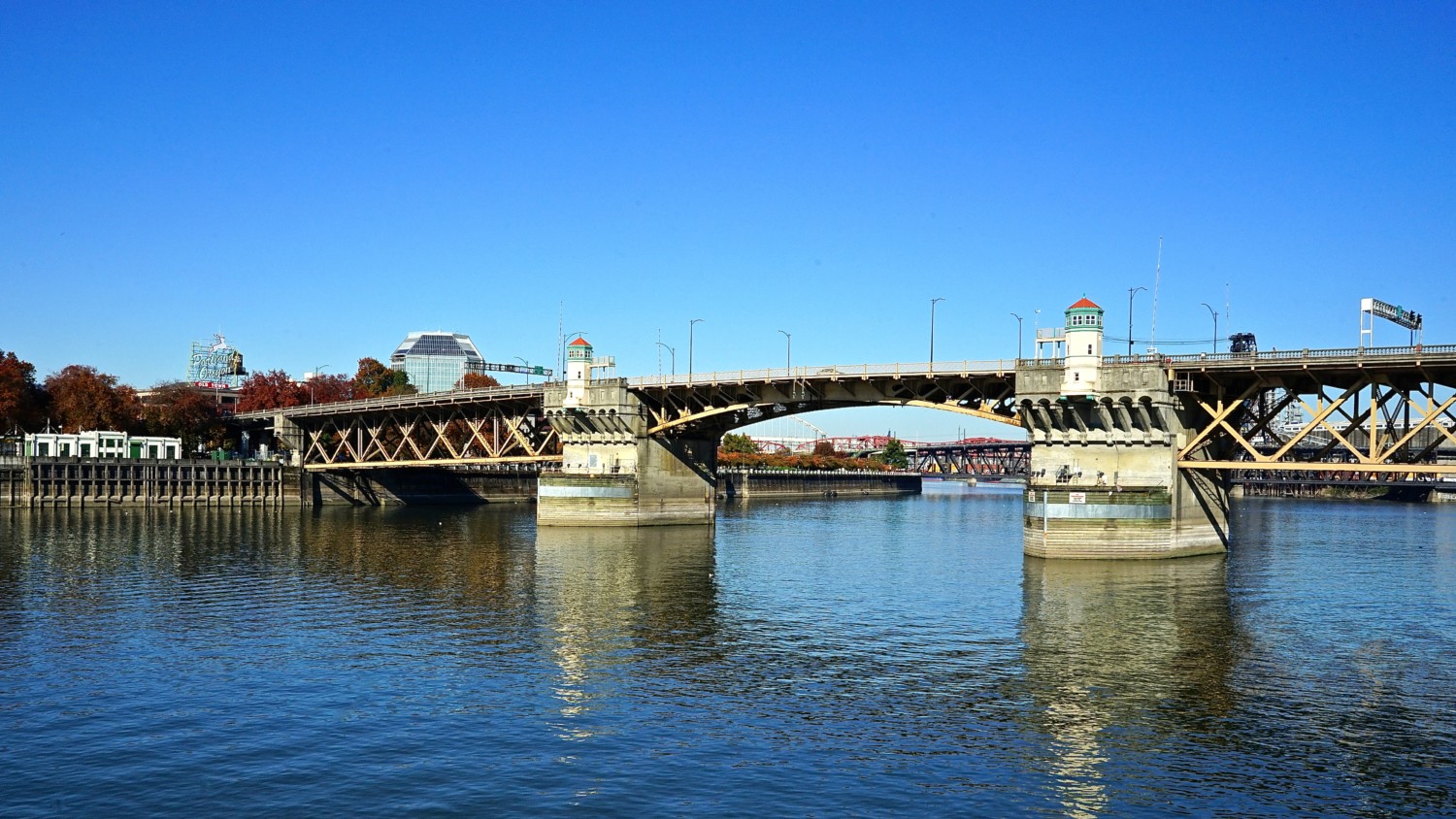 The Pearl District & Nob Hill
From the Eastbank Esplanade, the Steel Bridge will take you into the Pearl District, a former rail yard. This neighborhood now has a modern feel with an eclectic combination of architecture, window shopping opportunities, and huge off-leash area for the dogs to play.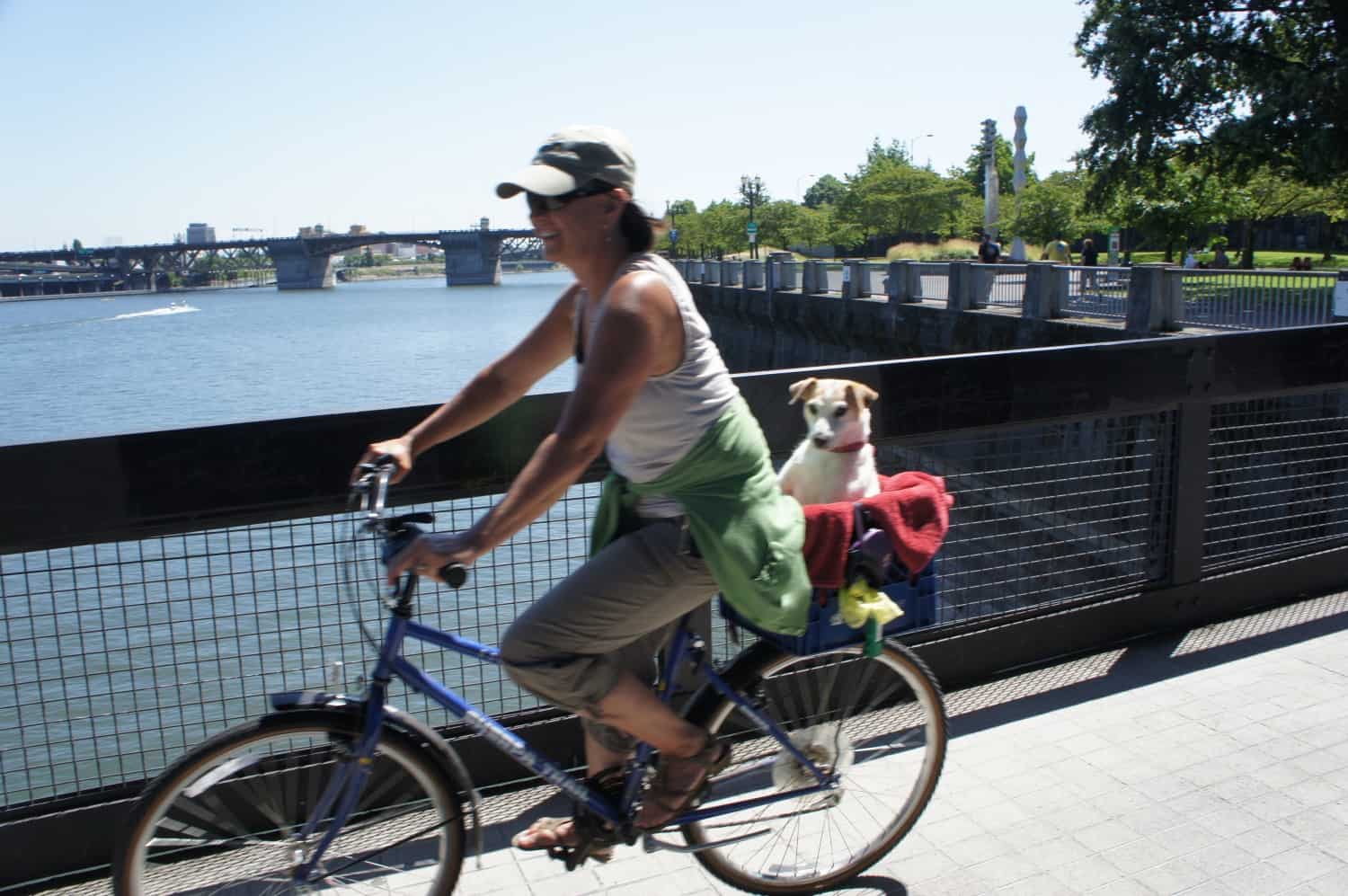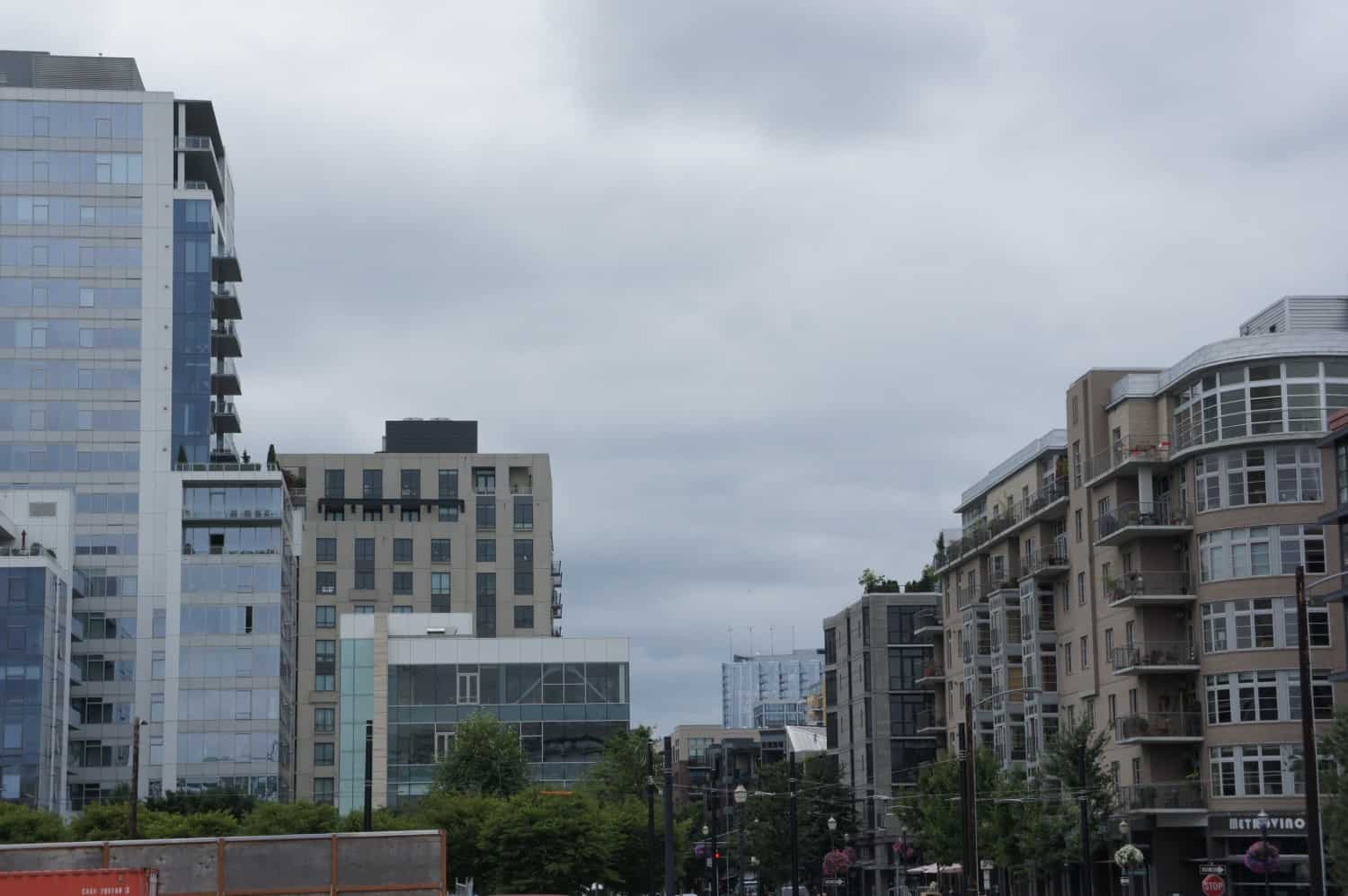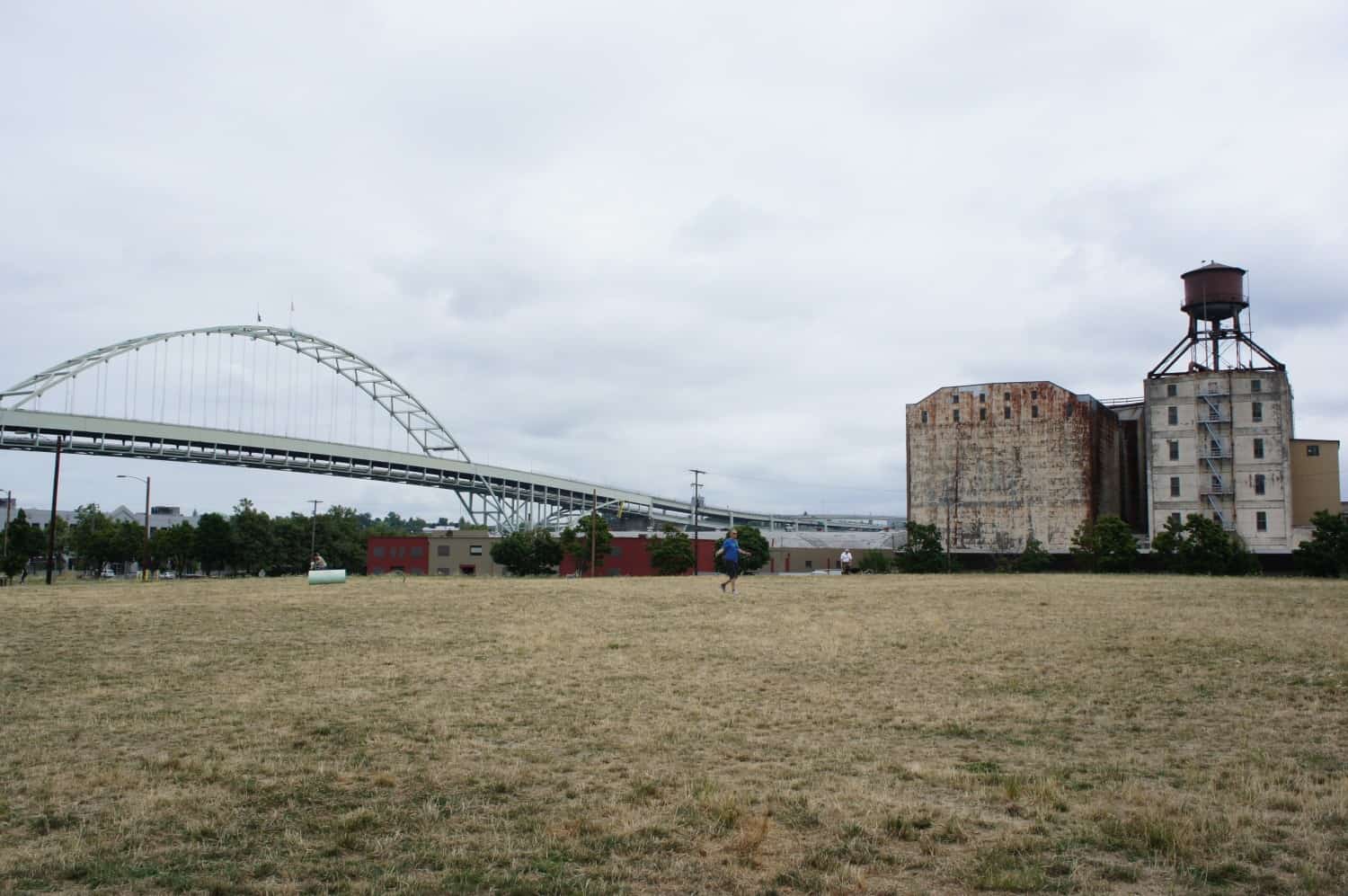 The clean lines of the Pearl district give over to the laid-back, come-as-you-are vibe of Nob Hill. Charming Victorian homes in different stages of restoration and vintage clothing stores are the theme here.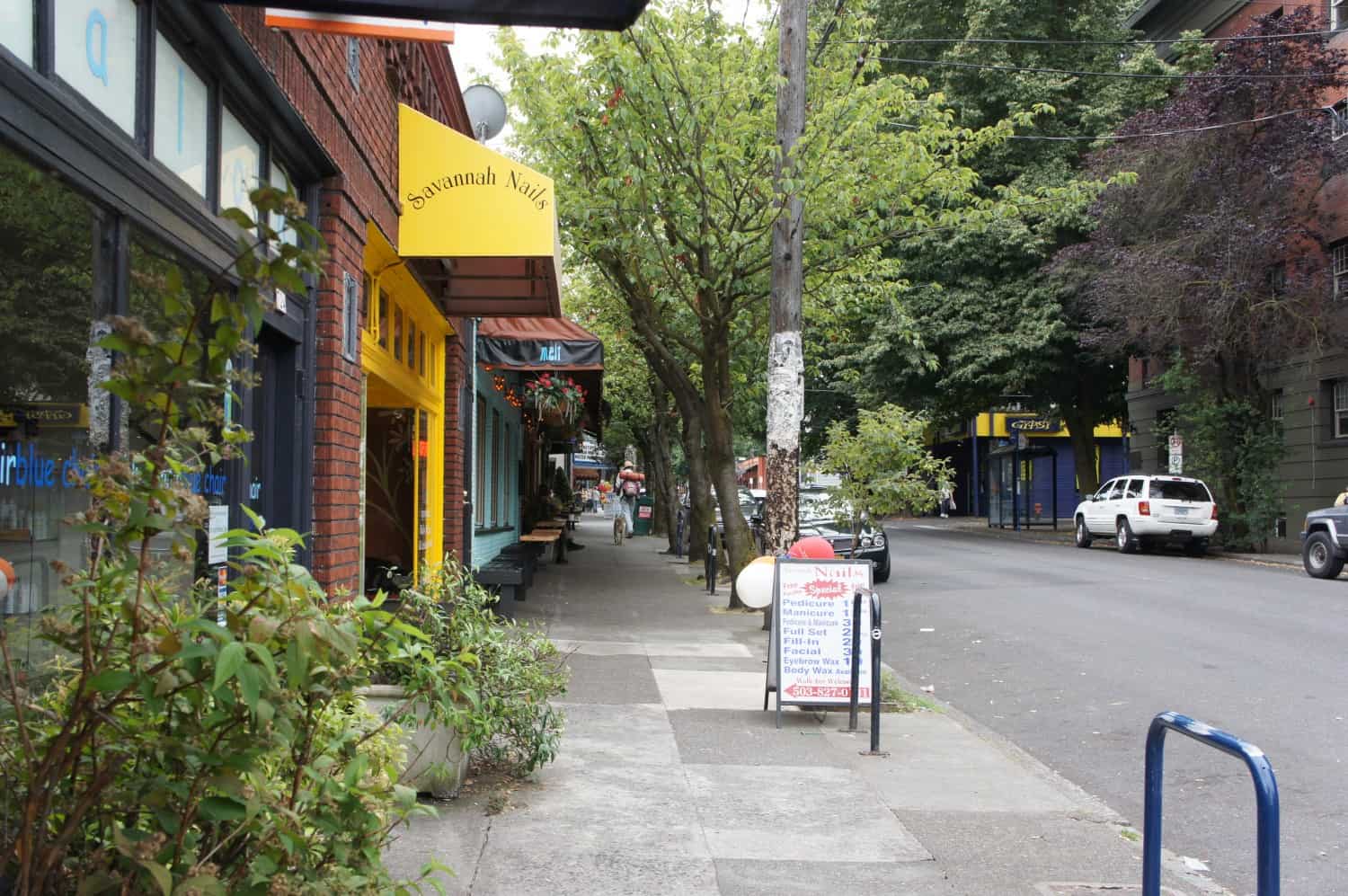 Gov. Tom McCall Waterfront Park
Waterfront Park lies between Portland's downtown district and the Willamette River like a lovely front yard. This park is always buzzing with activity. On Saturdays there's an open-air market, and other events are scheduled throughout the year.
It's a great place for friends to gather for a picnic, or just to enjoy the water views. And at the far end of the park there's even a little beach for pups who like to splash.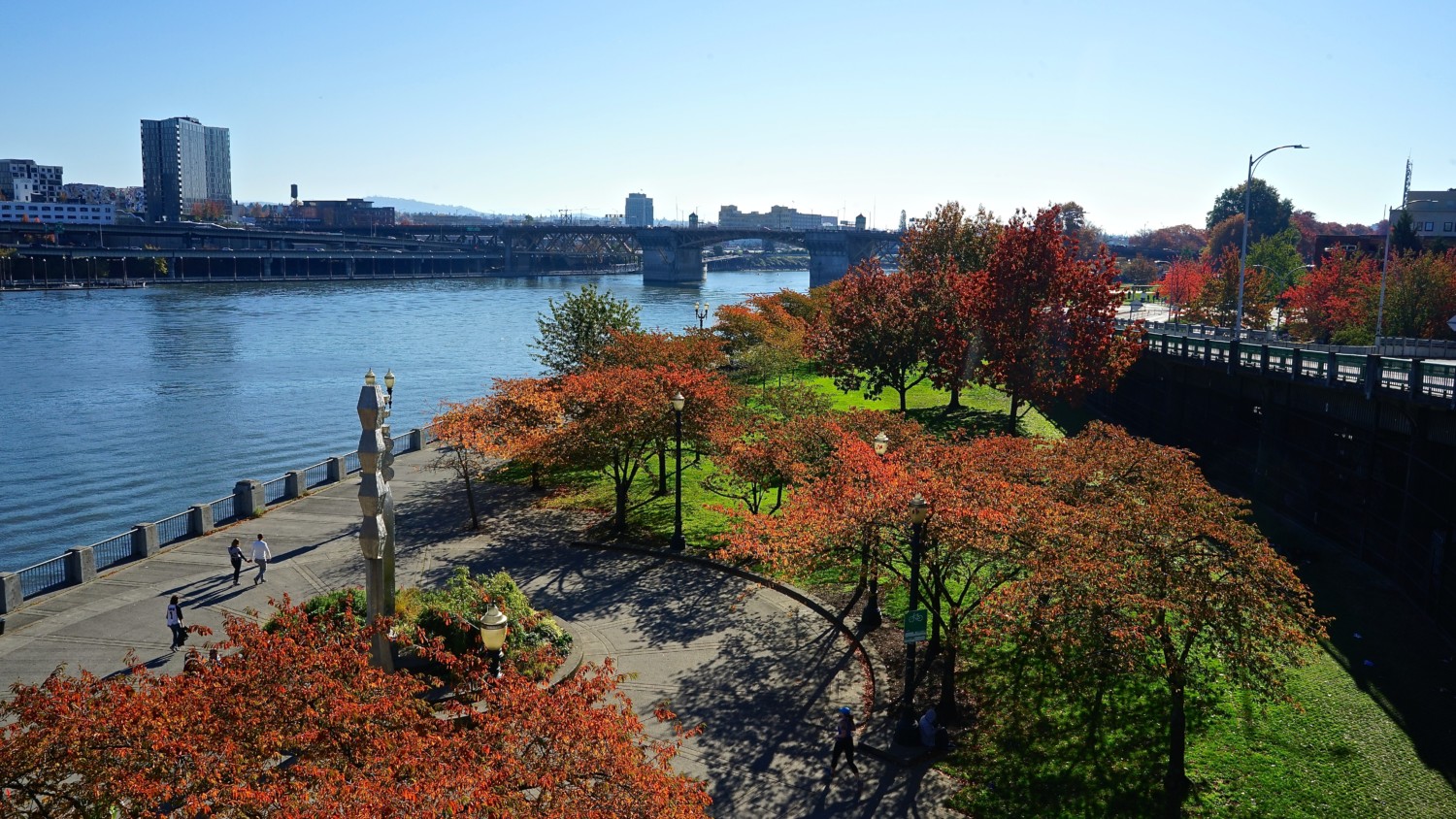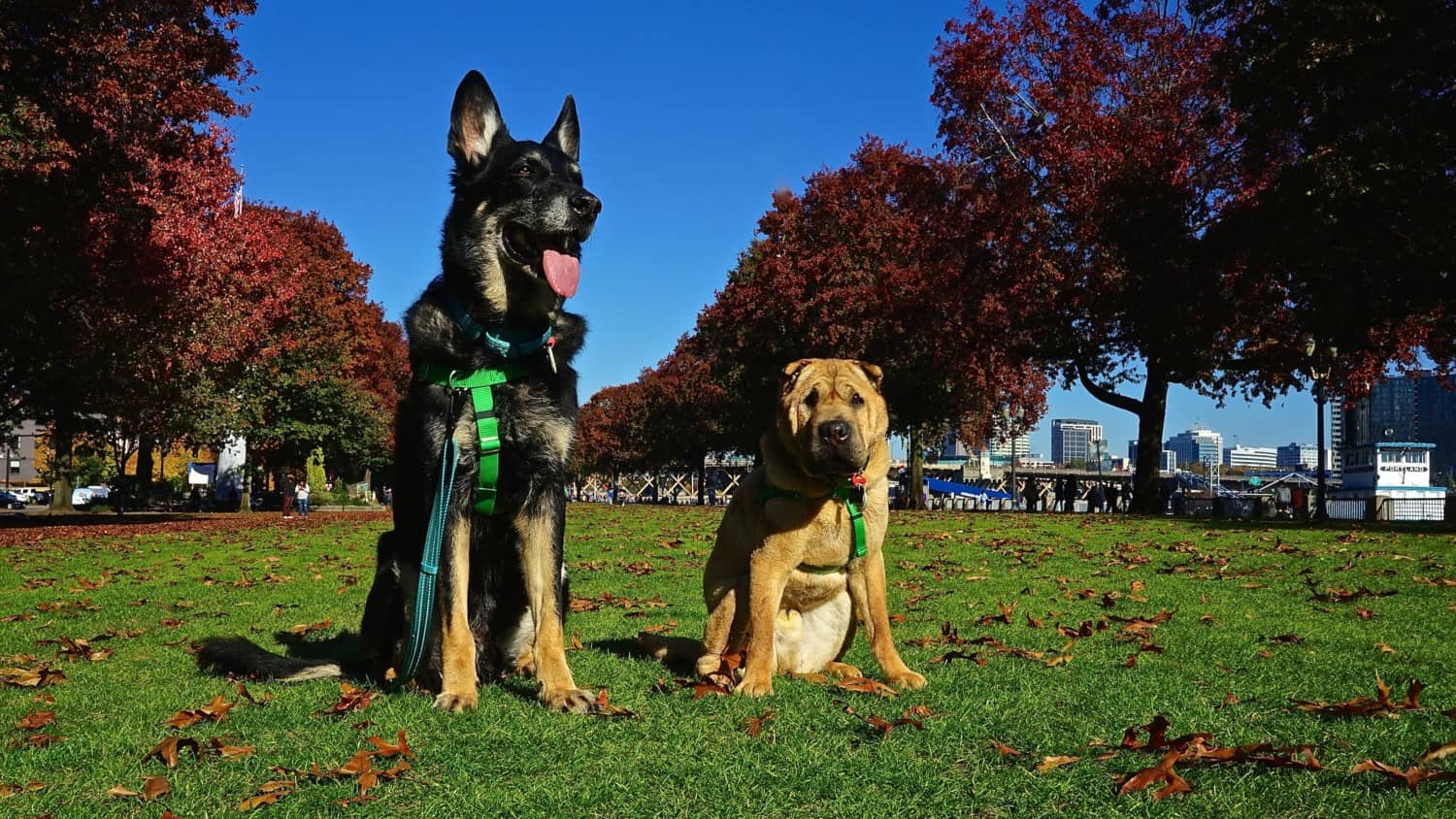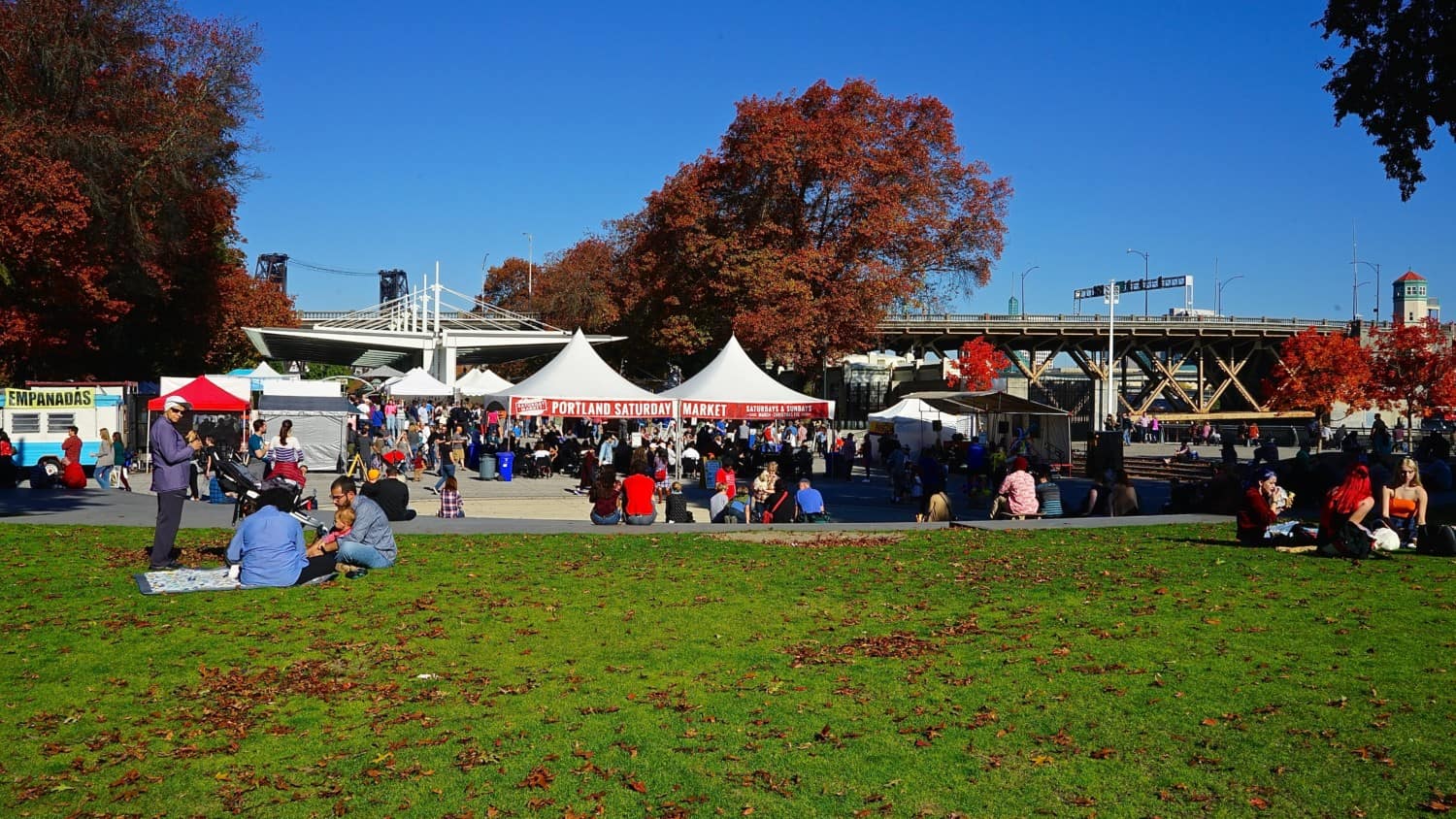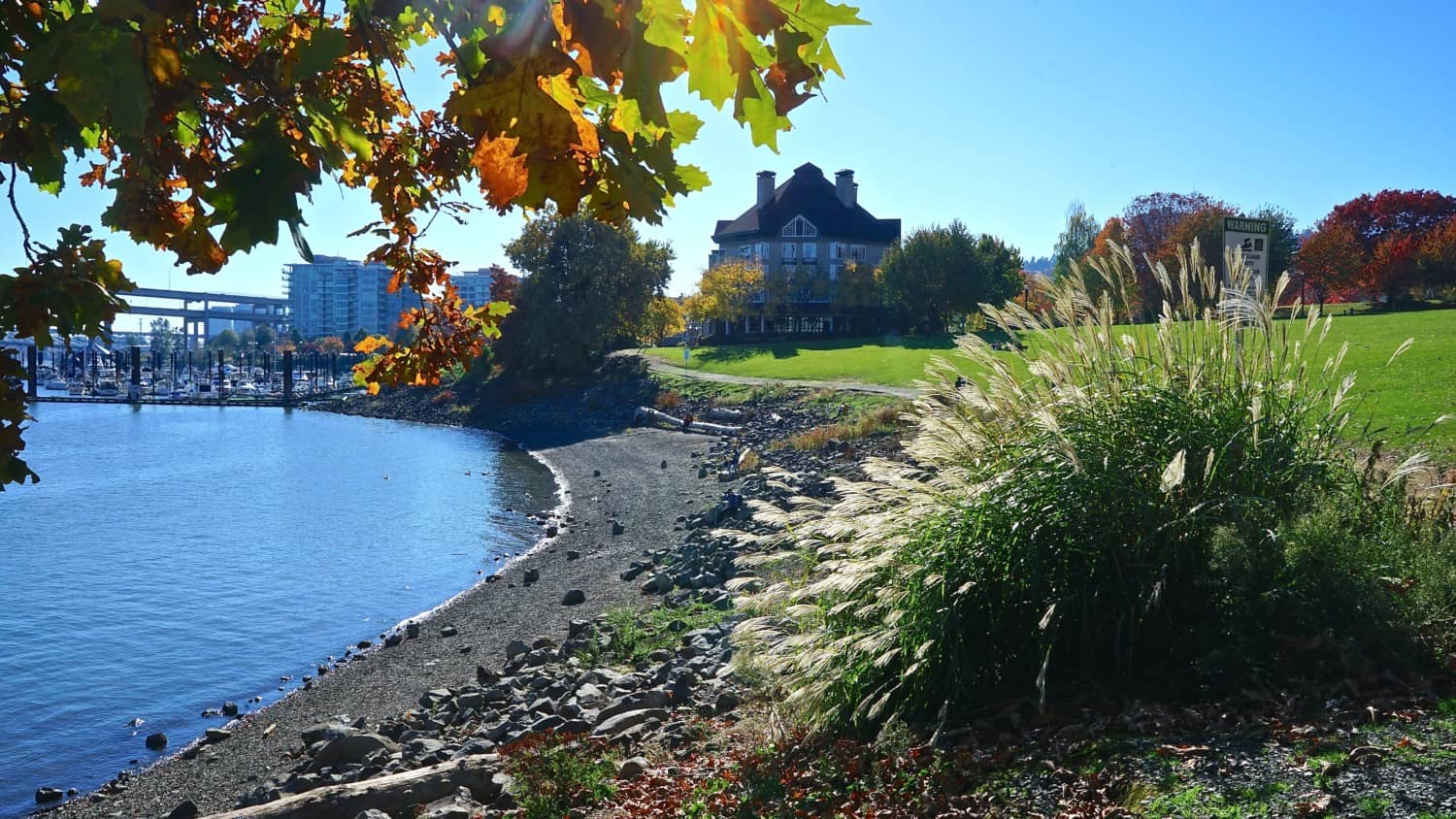 Portland's Downtown District
With its tree-lined streets and flowered open spaces, Portland's commercial center has a distinctly different feel than many other cities. There is no palpable undercurrent of agitation here.
Perhaps it's the absence of blasting horns. (Most people use the free streetcar.) Or maybe the emphasis on nature rather than glass and steel creates the ambiance. Whatever the cause, people seem more relaxed. The vibe is less self-important hustle, and more take life as it comes.
Time your walk so you arrive in the Downtown District hungry. As you stroll, you'll find areas where food carts line entire city blocks. Making everything from dumplings to waffles, you could eat all day … and we did!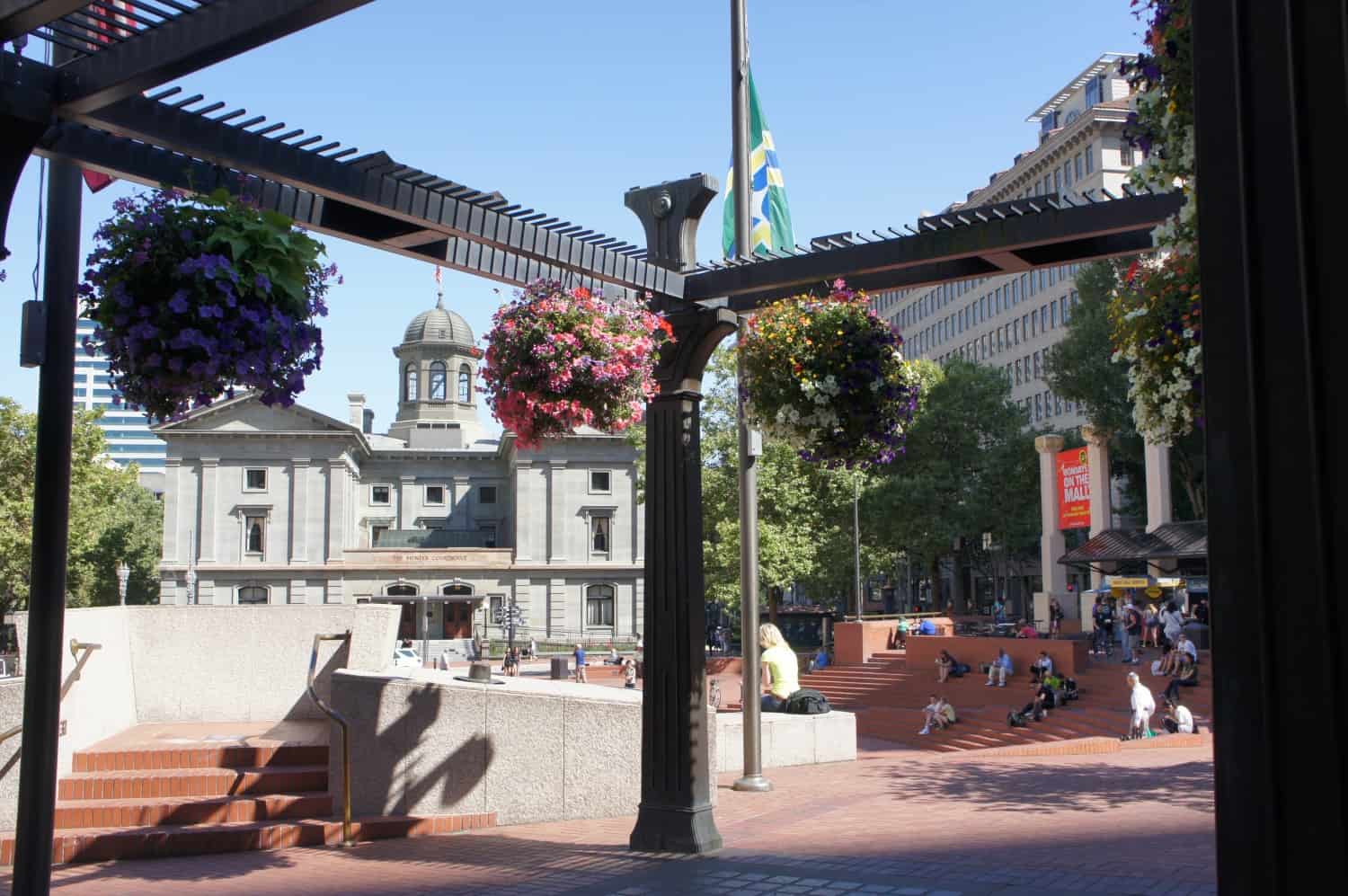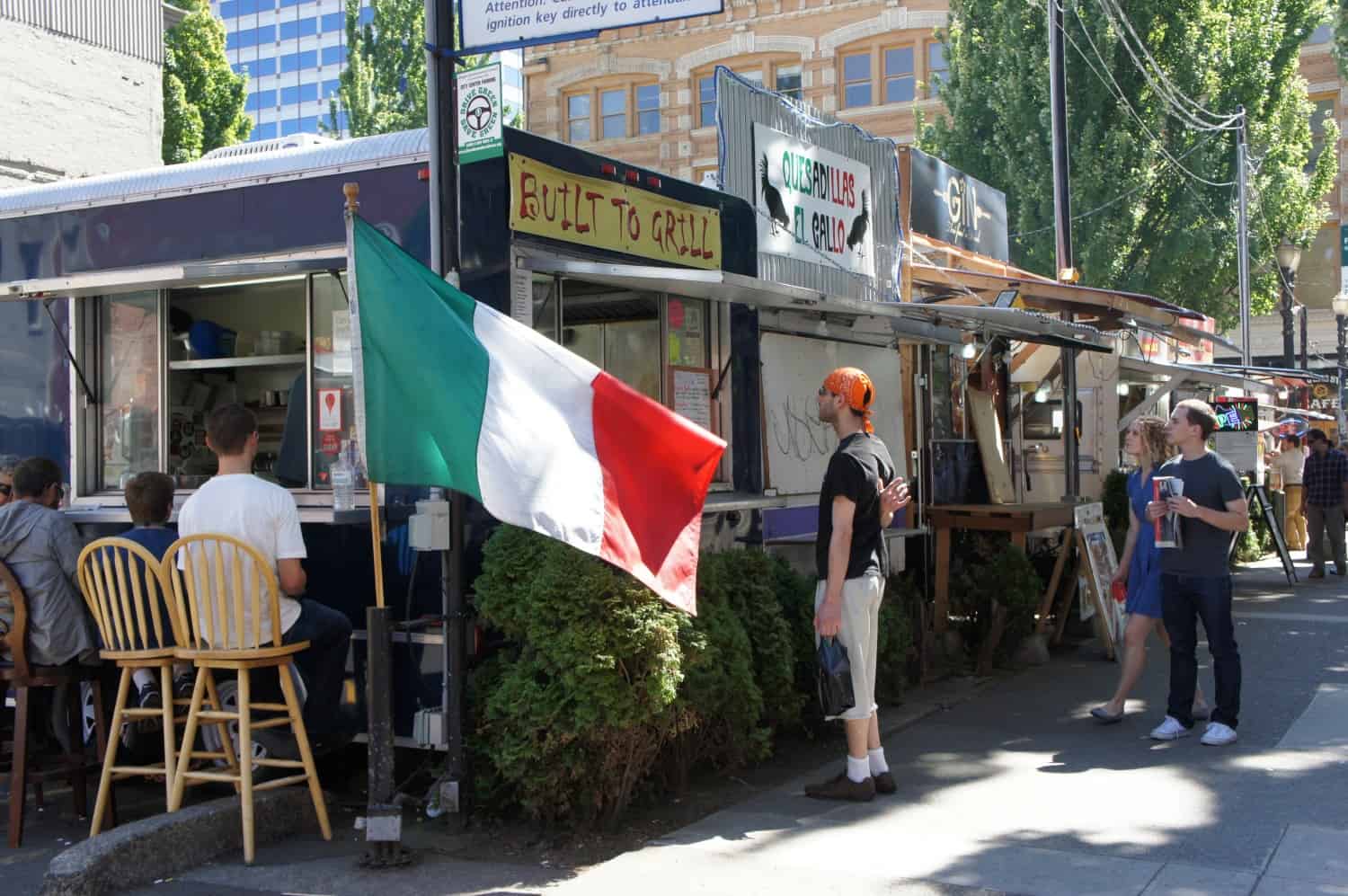 Poet's Beach
South of Waterfront Park you'll find a few riverside cafés and Poet's Beach. This quiet space celebrates the school childrens' thoughts about the river, which have been carved into the rocks.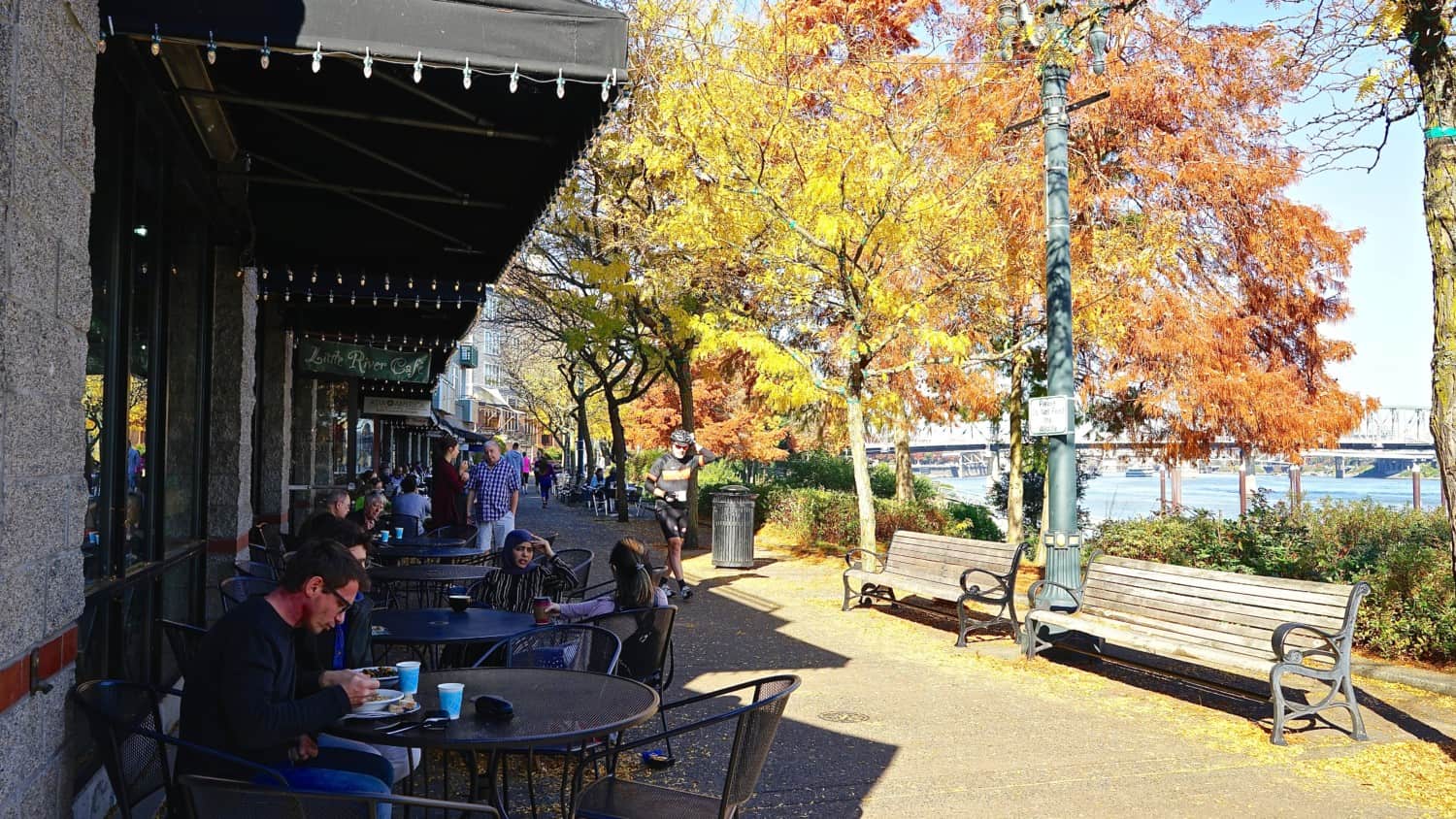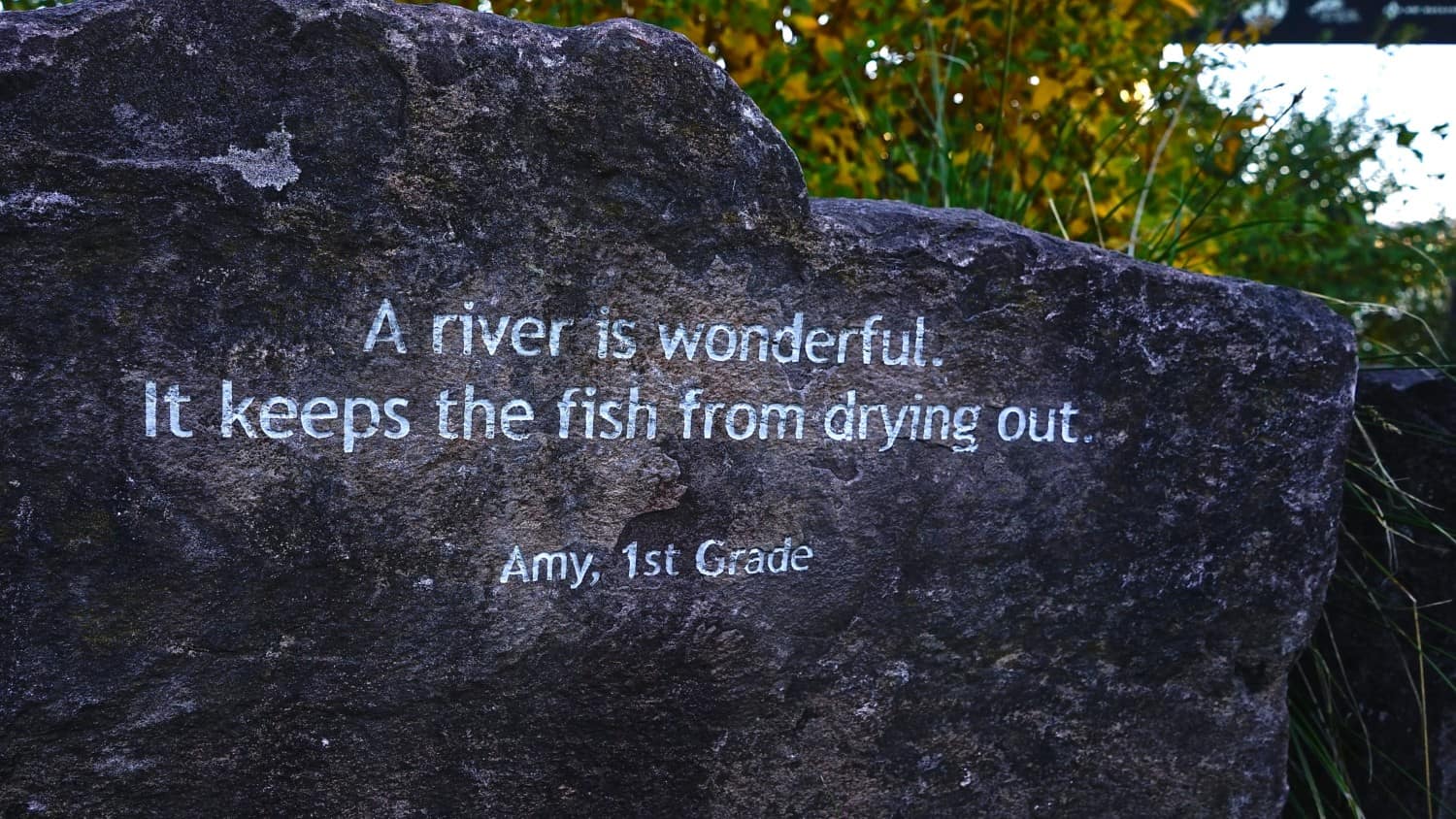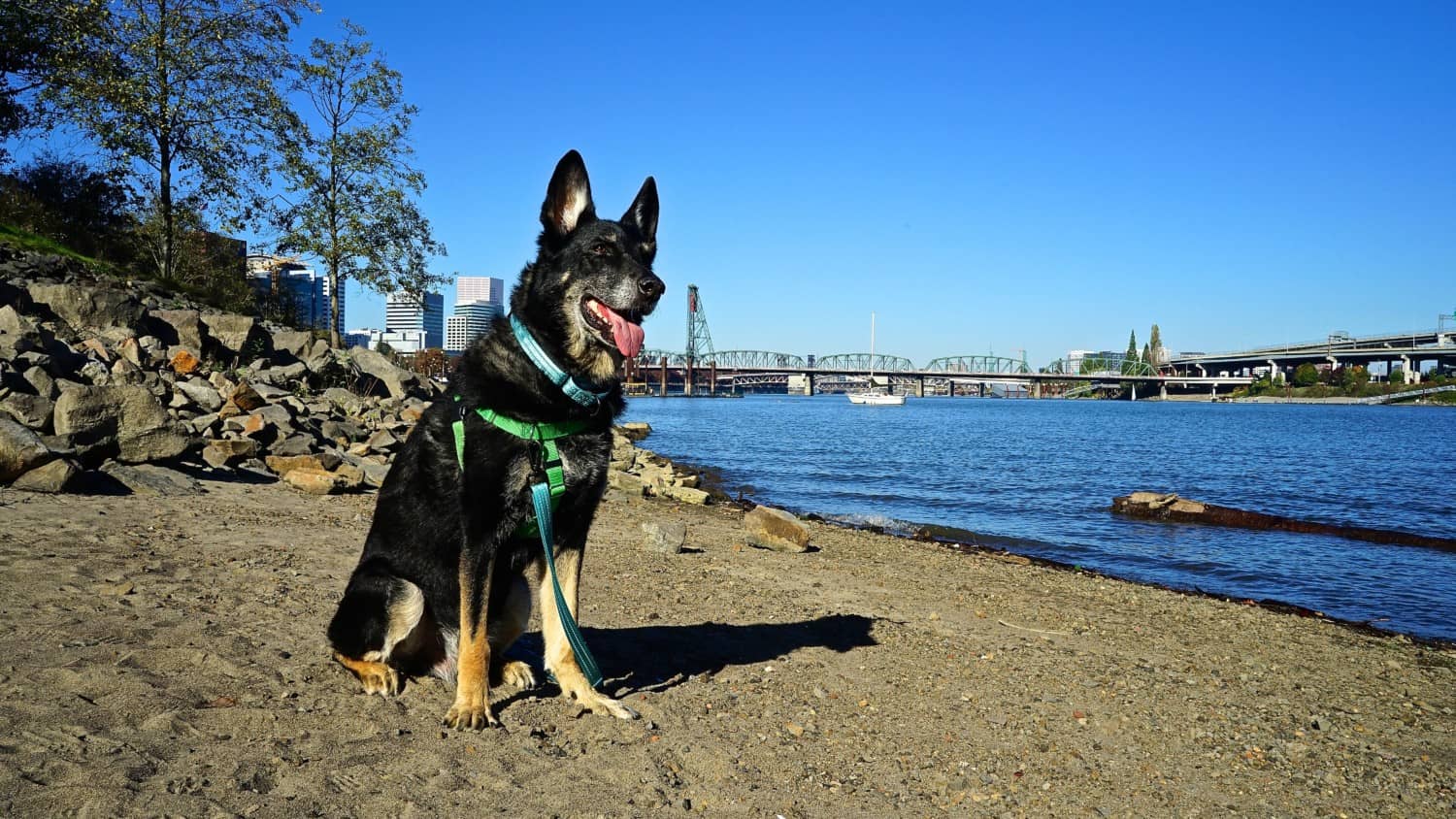 From Poet's Beach, continue a bit further south and take Tilikum Crossing – a pedestrian bridge – back across the river. This will provide some fantastic views, and let you circle back around to where your car is parked.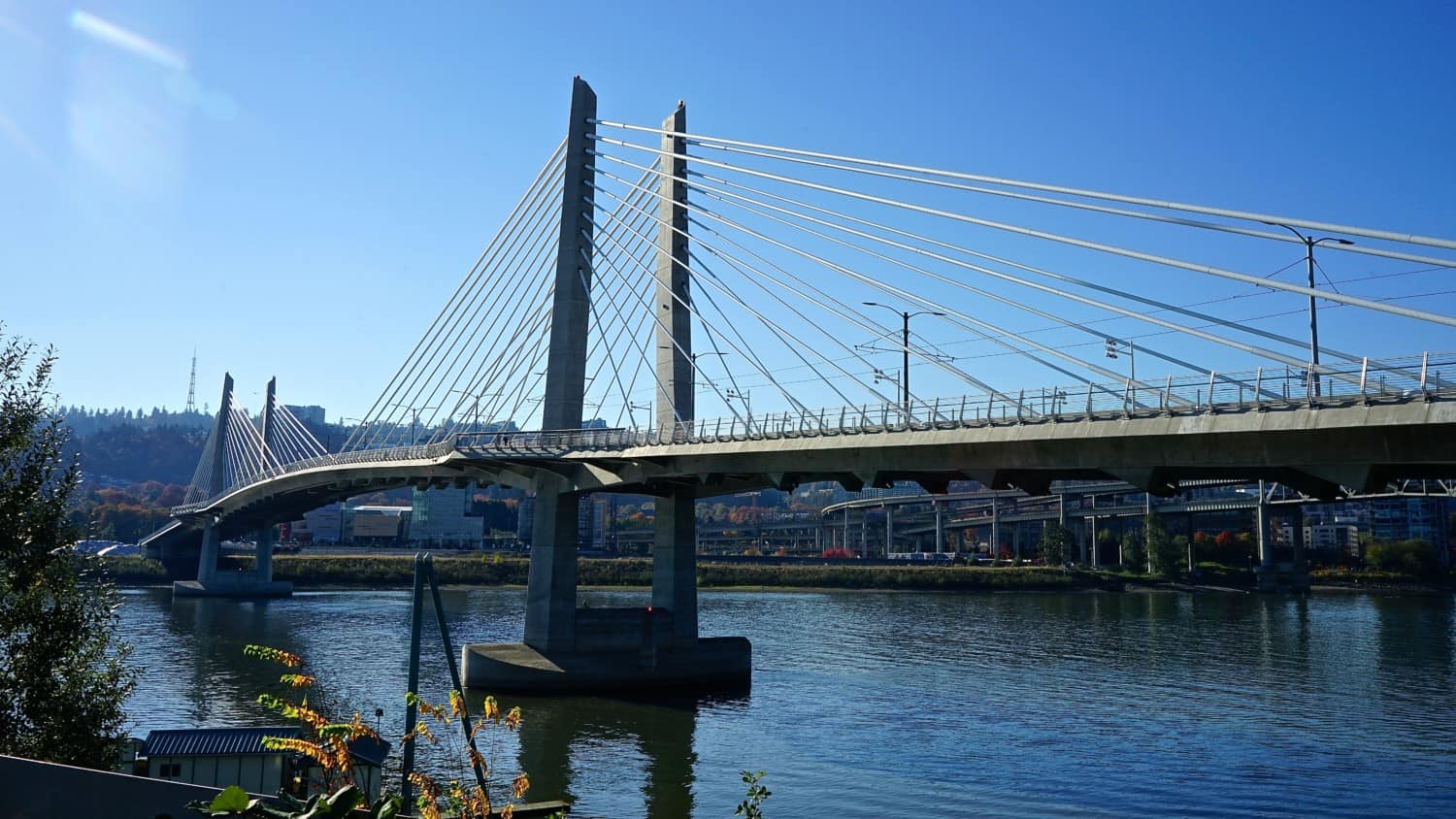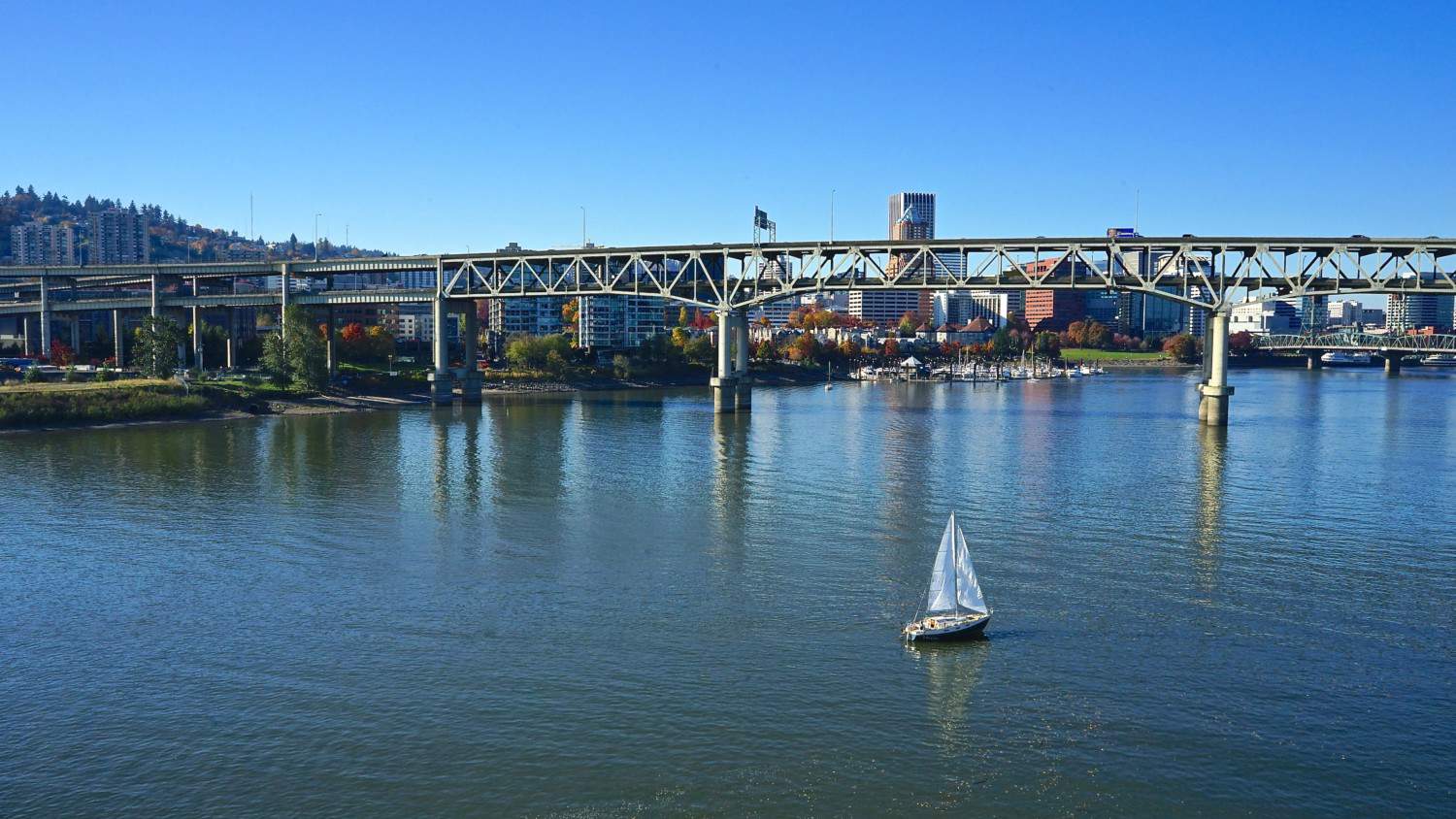 Washington Park
Washington Park is one of the oldest parks in the city, and one of Portland's amazing pet friendly treasures. Encompasses nearly 160 acres, there are 15 miles of trails connecting to Forest Park and the Pittock Mansion.
Home to the Oregon Zoo, the Hoyt Arboretum, the Portland Children's Museum, and the International Rose Test Garden, you can easily spend a whole day exploring the attractions here. But if you have an interest in flowers or gardening, we recommending starting at the Rose Garden.
Portland a long history with roses. In 1905, the city had 200 miles of rose-bordered streets! They've been celebrating this floral wonder at the International Rose Test Garden for 100+ years. And you and your pooch are welcome to sniff these beauties to your heart's content. Even in the off-season, there's always something blooming.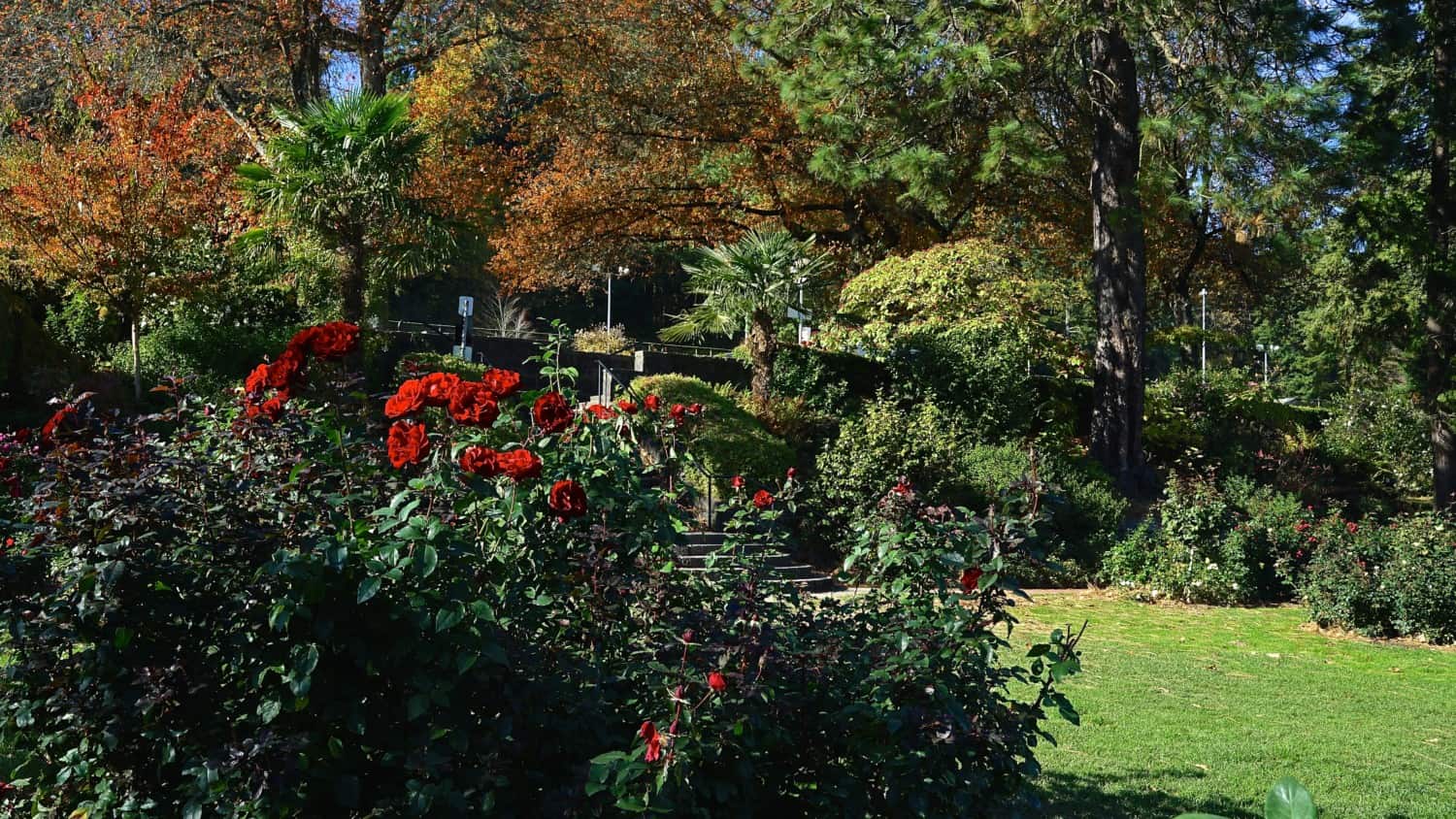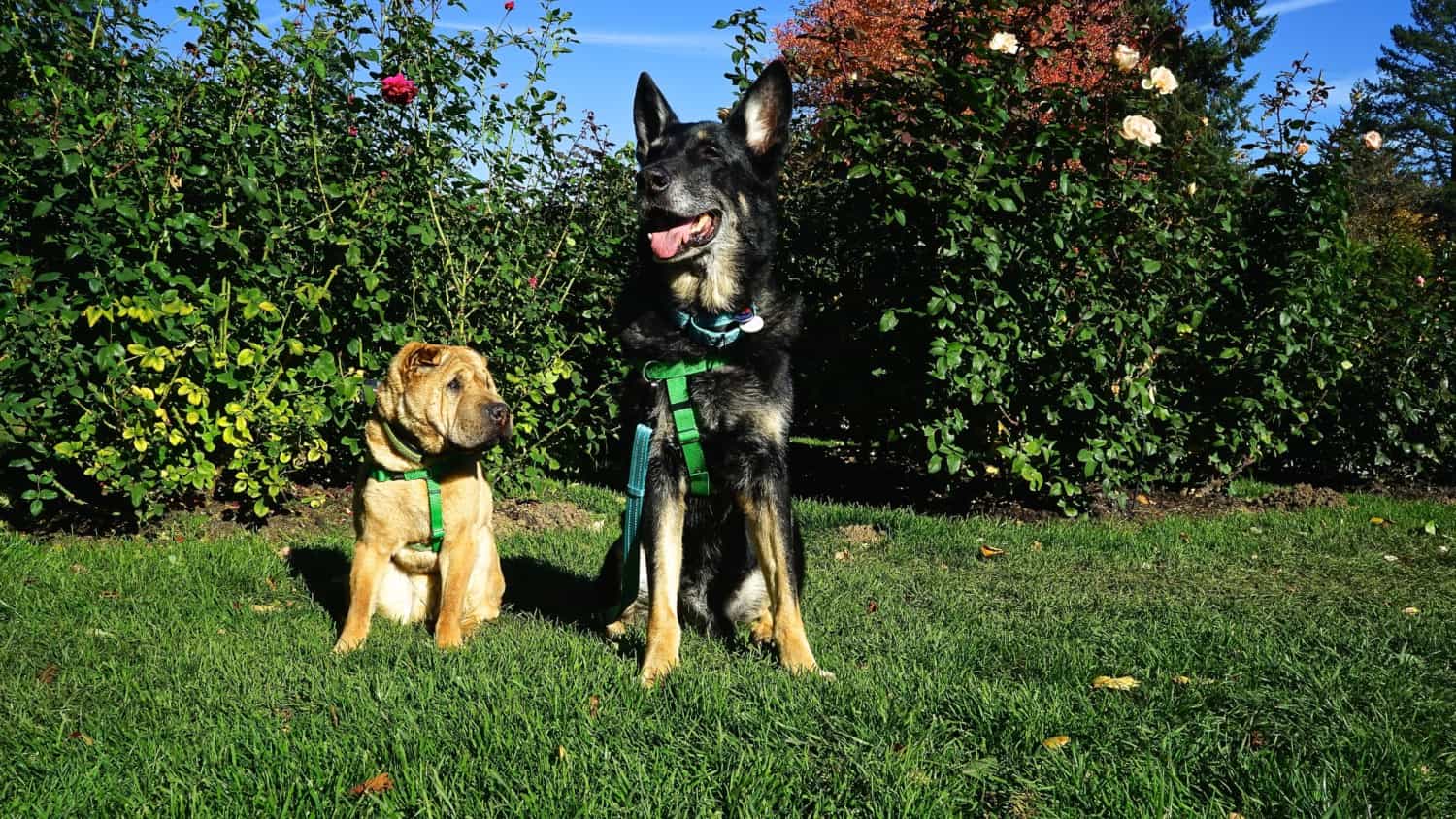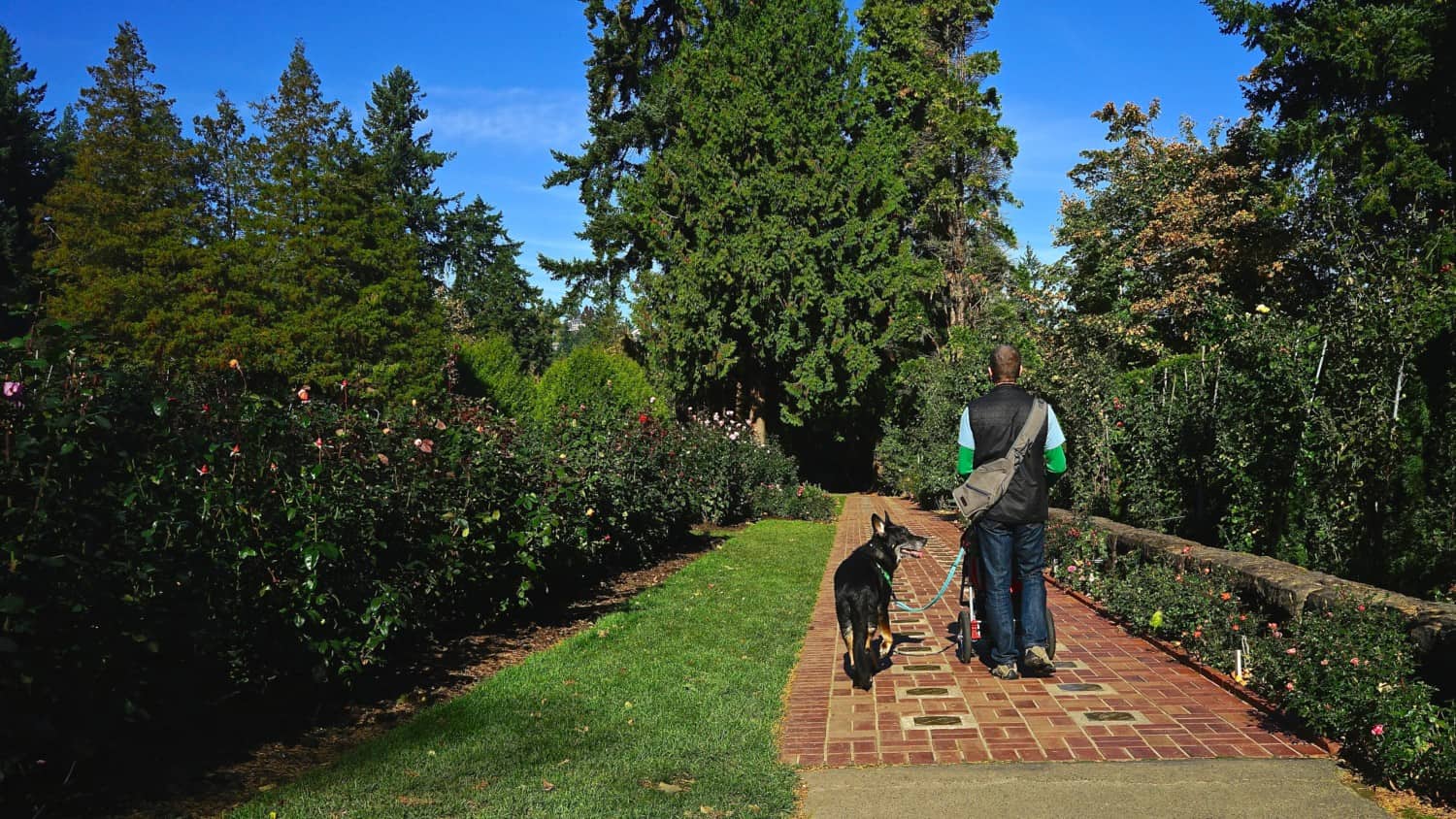 Willamette Park
For a serene place to enjoy the river, head south of downtown Portland to pet friendly Willamette Park. There's a boat launch if you have a kayak, canoe, or stand-up paddle board. And paved trails if you'd rather go for a stroll.
There's also a big grassy field and playground for the kids, and a fenced dog park for the pup. From here you can pick up the Willamette Greenway, which runs 255 miles from Portland to the southern Willamette Valley.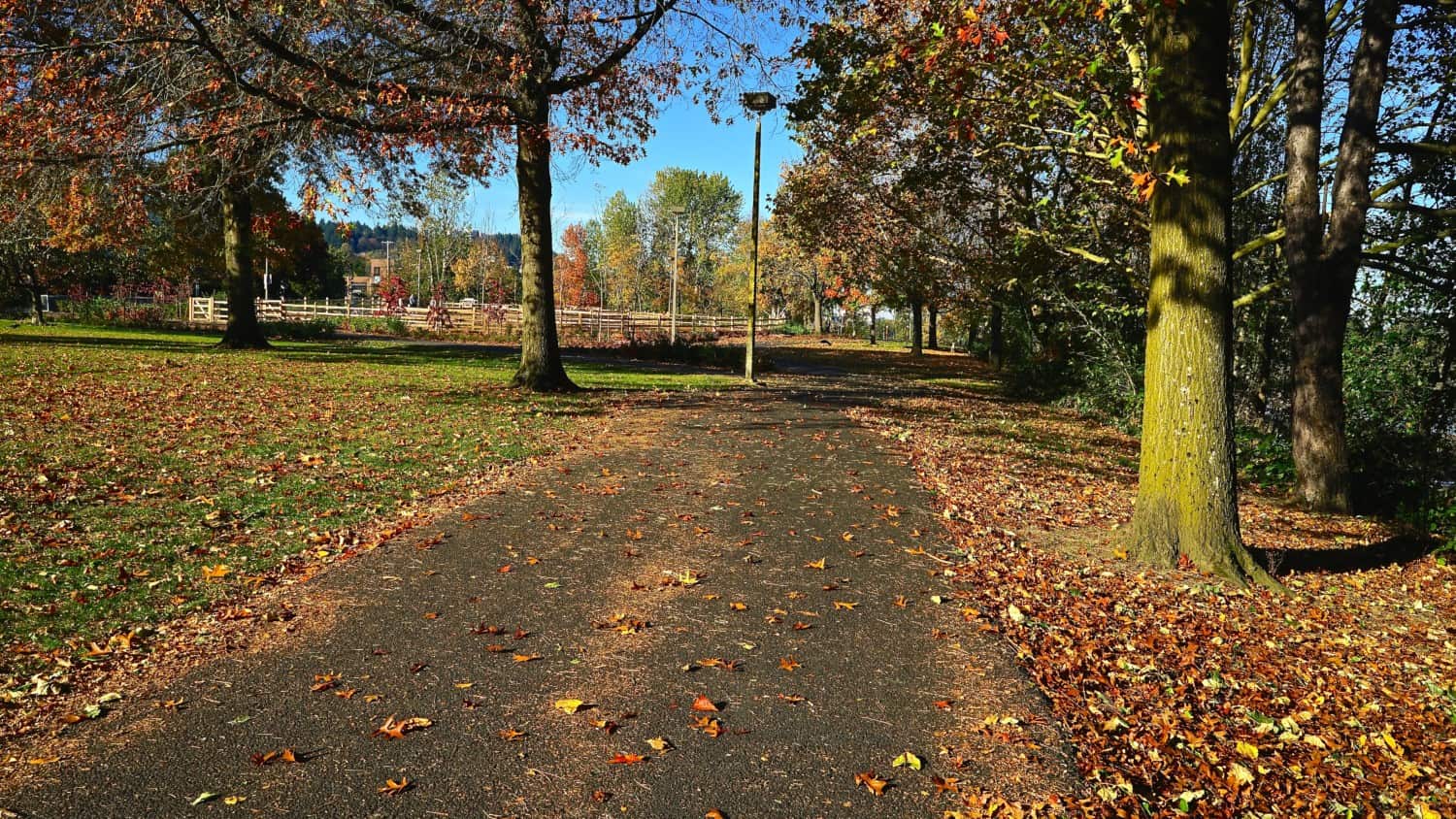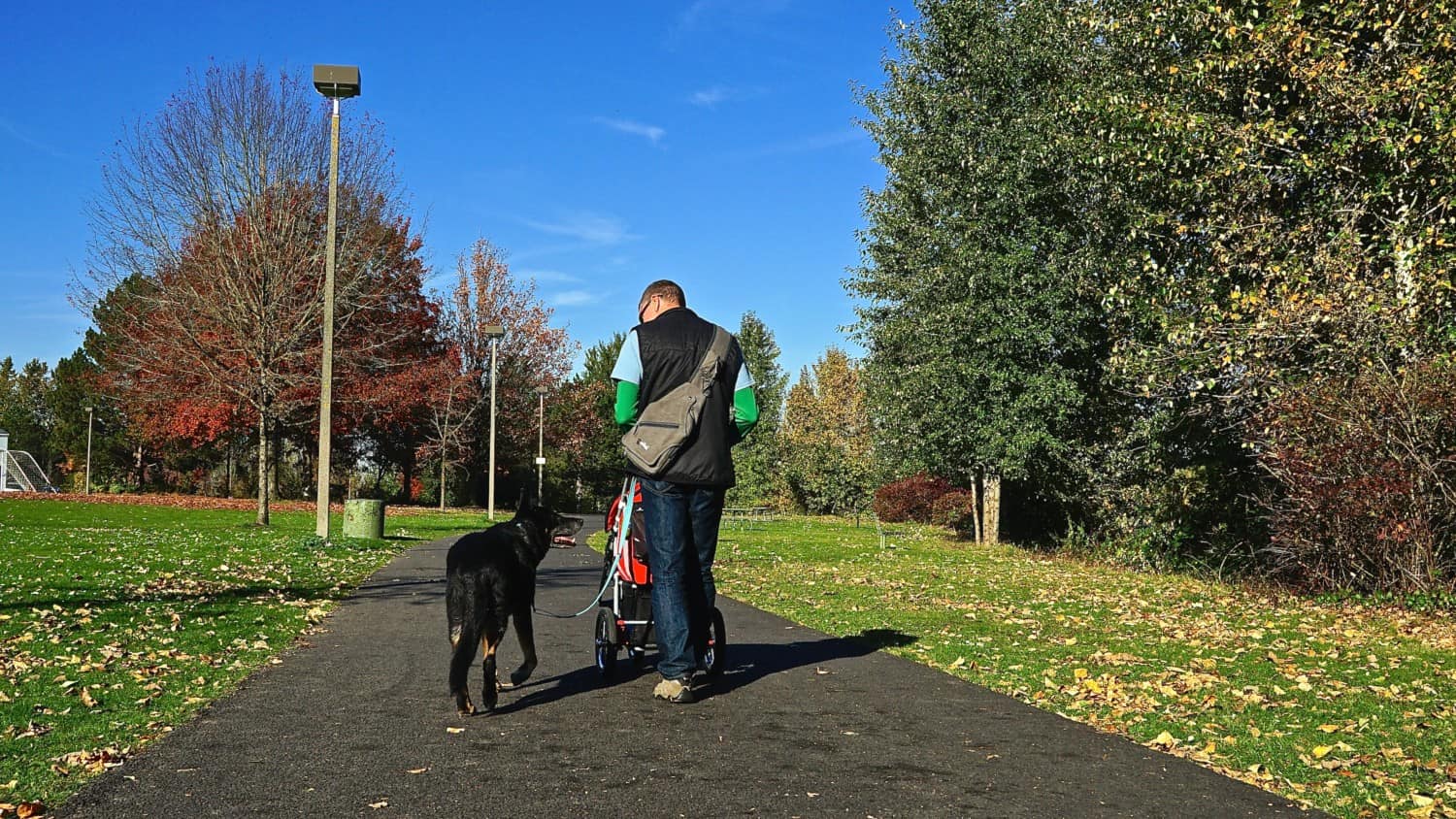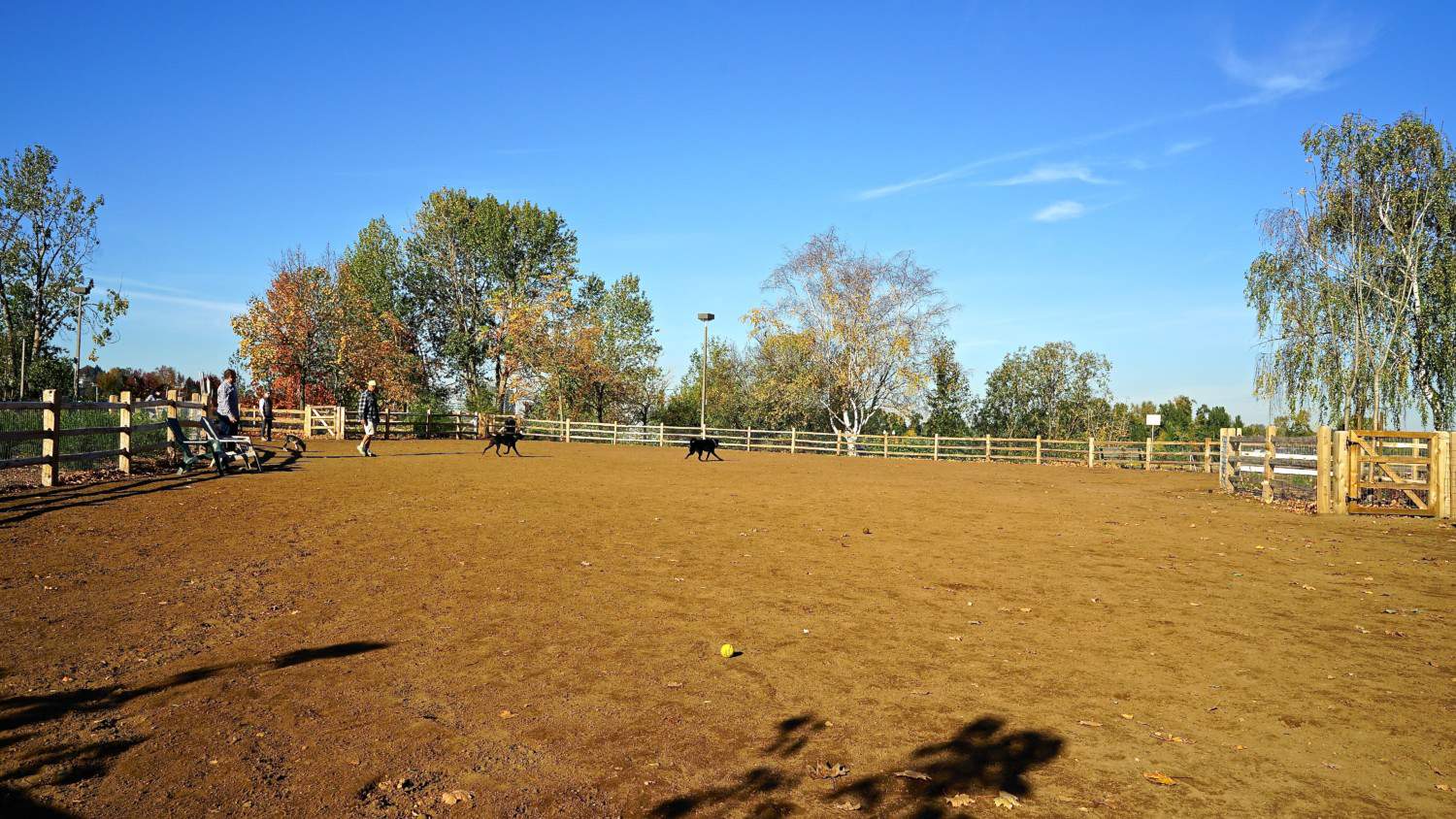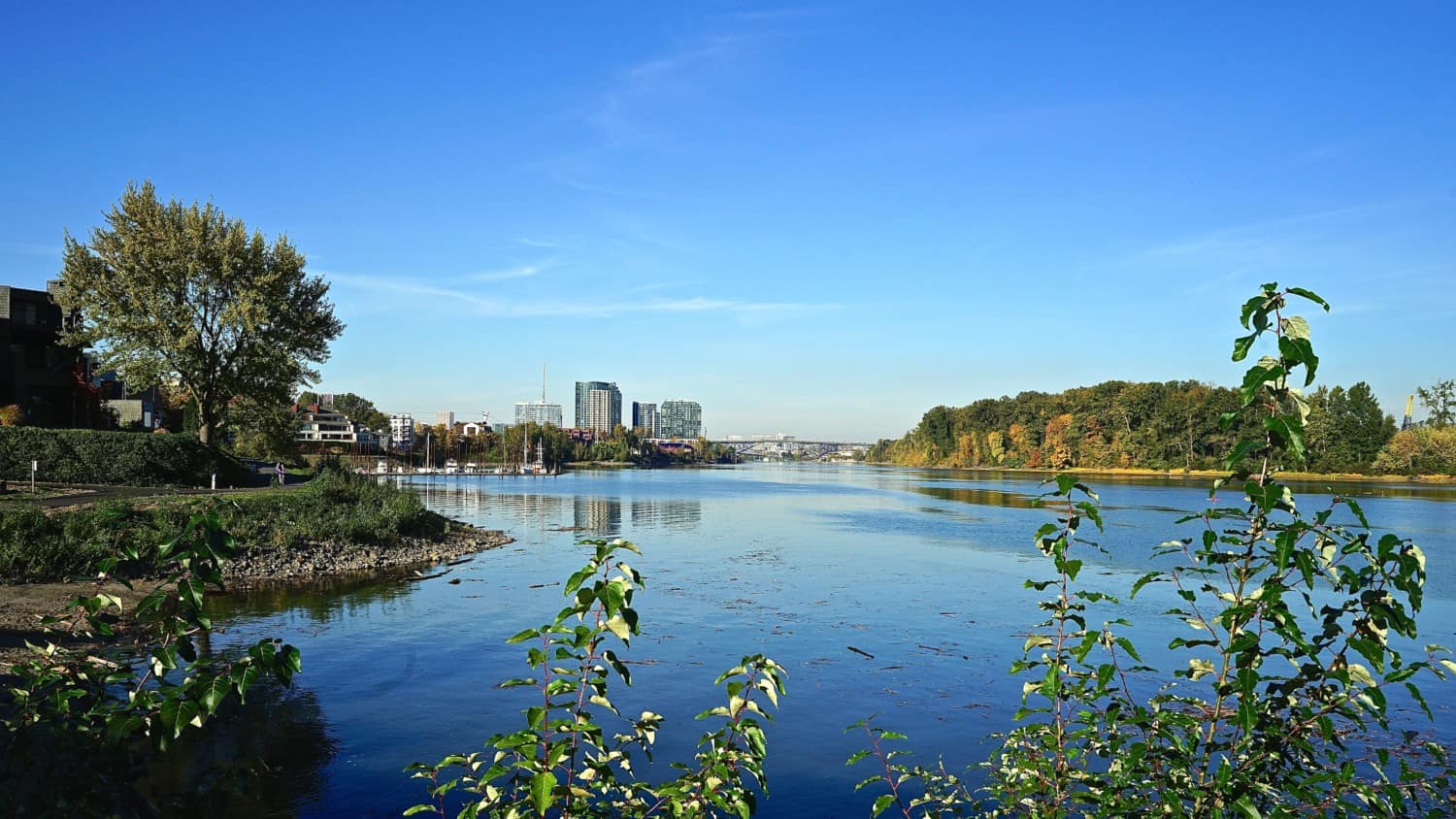 Dog Friendly Day Trips From Portland
It would take a lifetime for me to get tired of exploring pet friendly parks in Portland. But dogs thrive on variety. So trade the concrete and asphalt for a chance to get off the beaten path on one of these day trips.
Northern Clark County Scenic Drive
Fortunately, there is no shortage of interesting, dog friendly day trips from Portland! On this visit we decided to take the boys on the Northern Clark County Scenic Drive.
We headed north from Portland, catching the 70-mile loop through La Center, Yacolt, Battle Ground, and Ridgefield. Much to our dogs' delight, we found a great selection of pet friendly parks along the route:
Please note that all of the above listed parks require pets to be leashed, unless there is a designated off-leash area.
With every intention of spending the day seeing all these great parks, we started at Battle Ground Lake, and our motivation evaporated.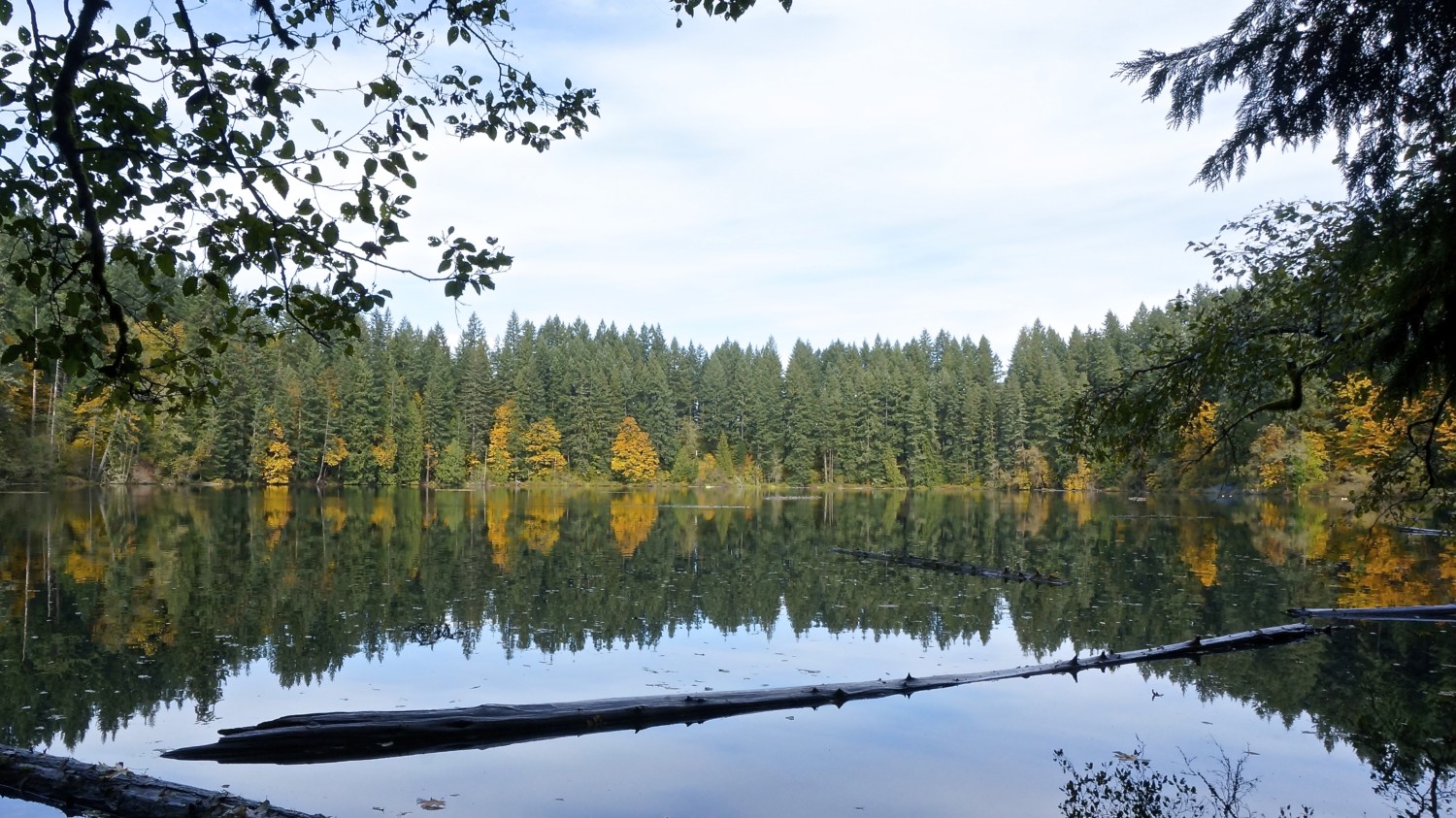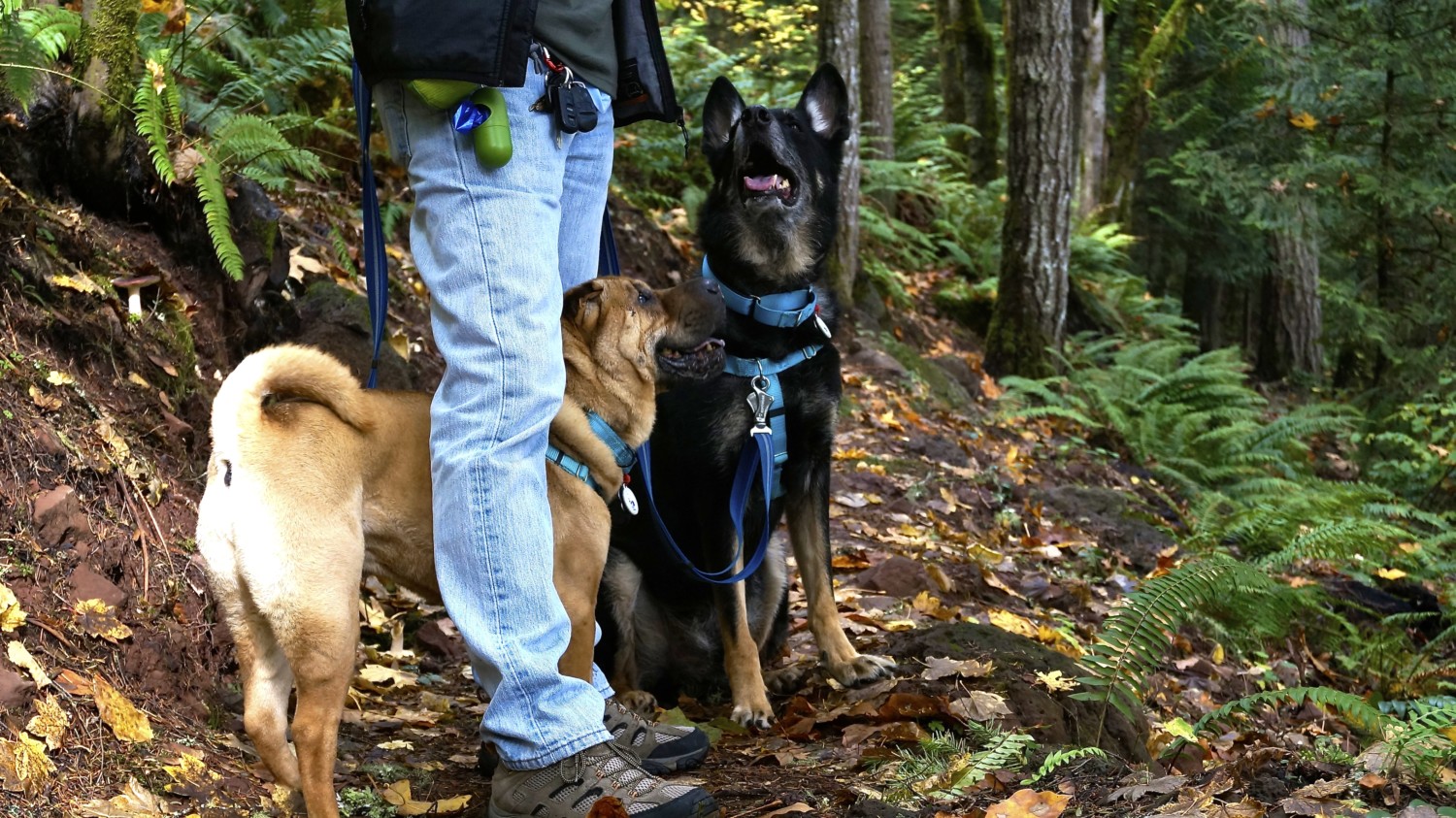 Battle Ground Lake State Park
Less than 30 miles from Portland, Battle Ground Lake takes serenity to another level. The park offers a variety of activities, including hiking, fishing, swimming, boating (non-motorized), biking, camping, badminton, baseball or softball, volleyball, horseshoe, bird watching, and picnicking. There's also a 60-foot dock, a boat ramp, kitchen shelters with picnic tables, a playground, and restrooms.
It was the ten miles of pet friendly hiking trails that grabbed our attention. From the wooded path around the lake to the open meadows, there is plenty of space to explore.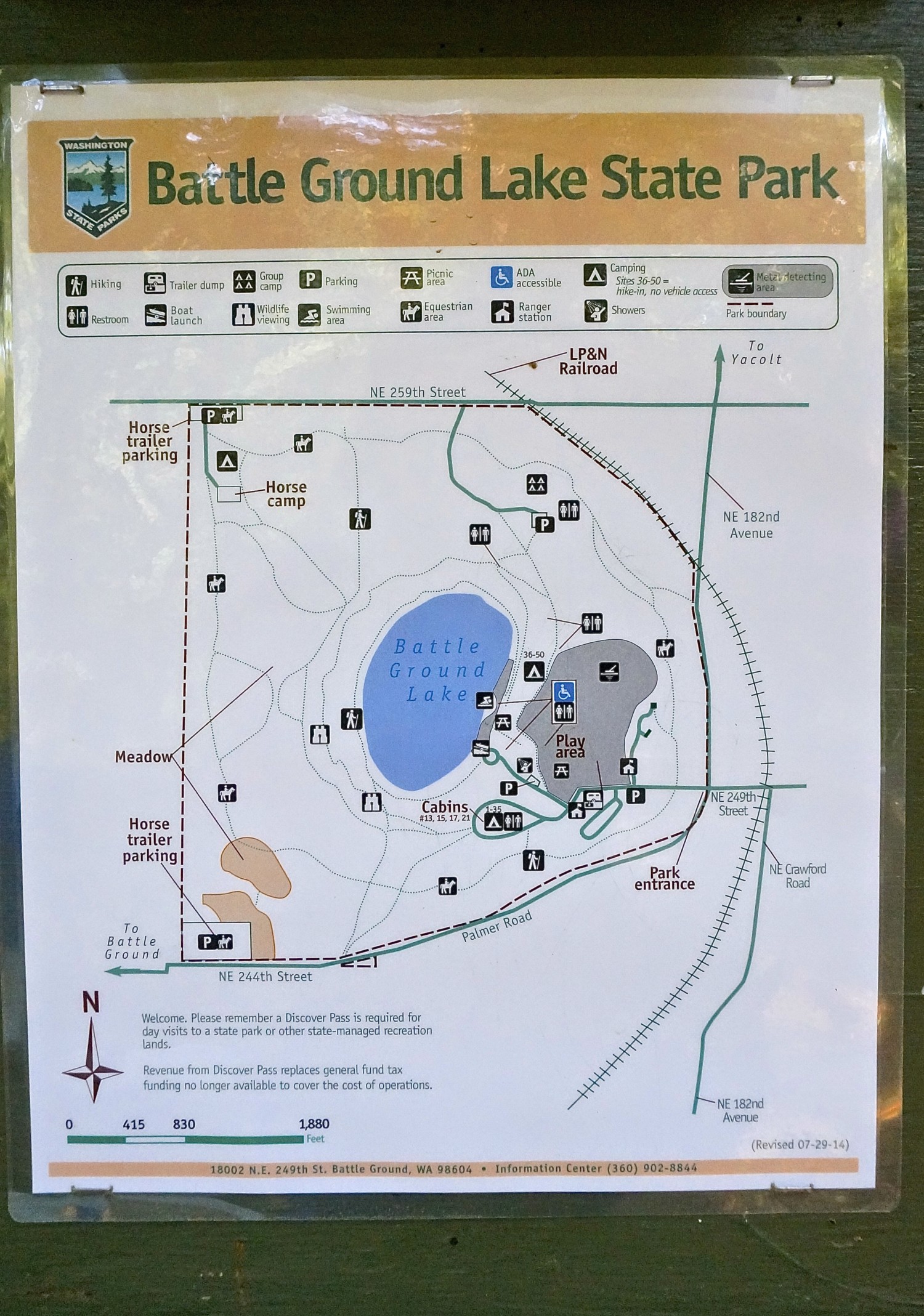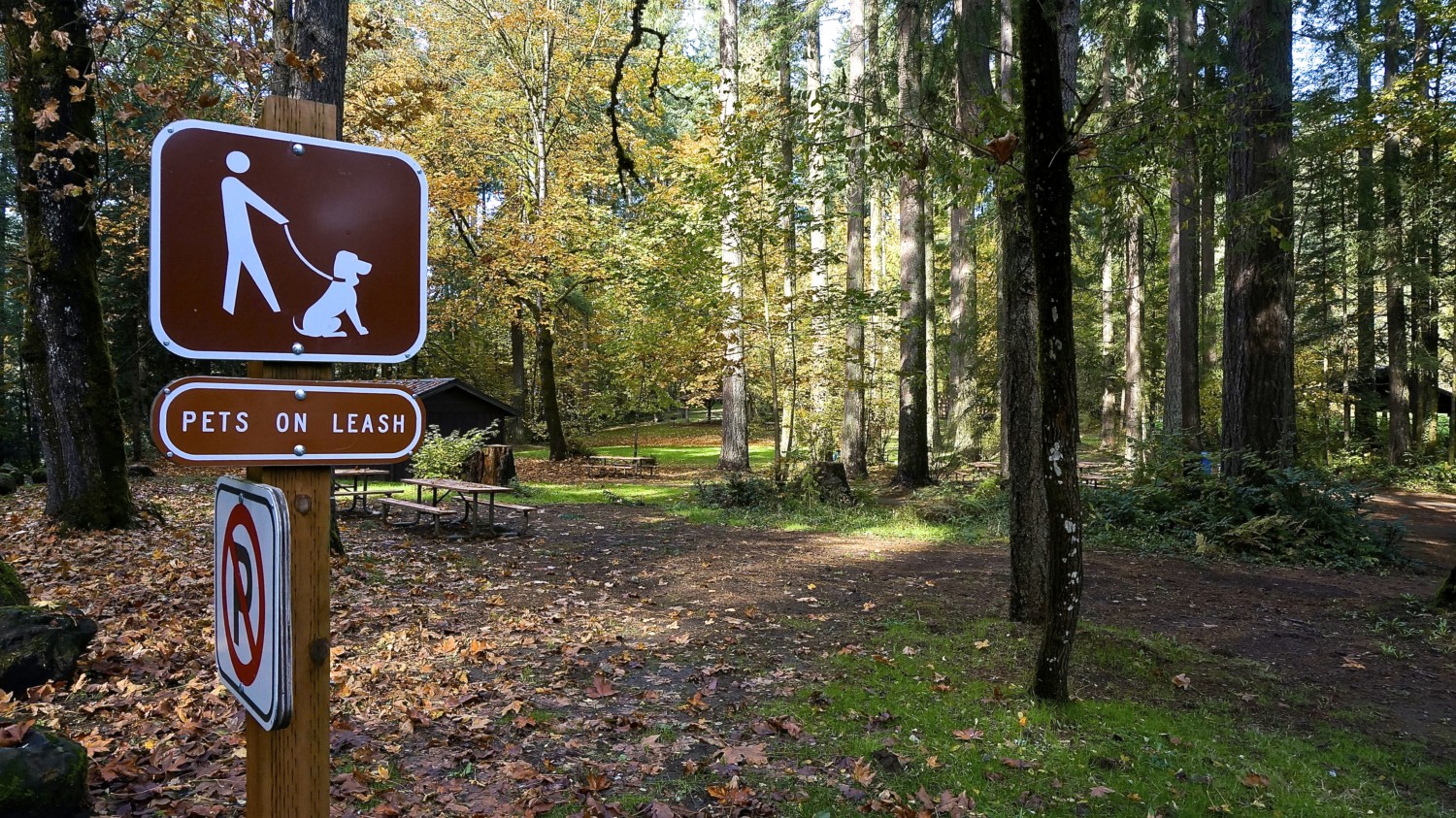 During our visit, the trees around the lakeshore were lit up like sparklers on the 4th of July against the dark background of Douglas Fir. So we opted for the Lake Trail, which allowed us to admire the display from every angle.
We were mesmerized by the crystal clear water, which fills the caldera of a volcano that erupted about 100,000 years ago. Evidence of the eruption is still visible in the basalt boulders and volcanic ash you see around the park.
It's hard to believe you're such a short drive from the city as the forest floor absorbs each footfall. There's an almost hypnotic peacefulness, with the birds chirping and the occasional splash of a canoe paddle on the water.
What started out as an ambitious adventure turned into a wonderfully relaxing day with the dogs. We set up our chairs in the day use area and spent a few hours soaking it all in.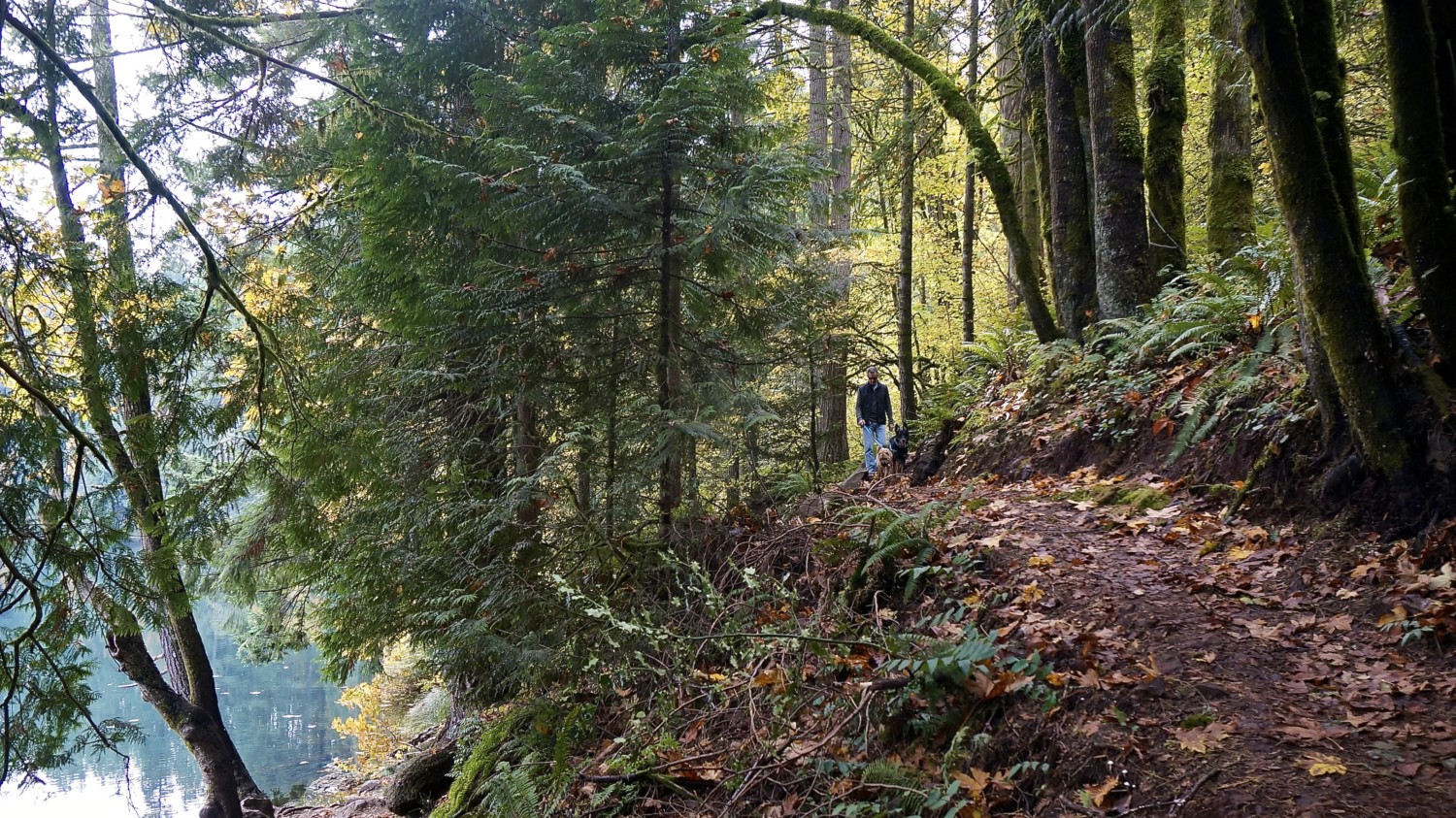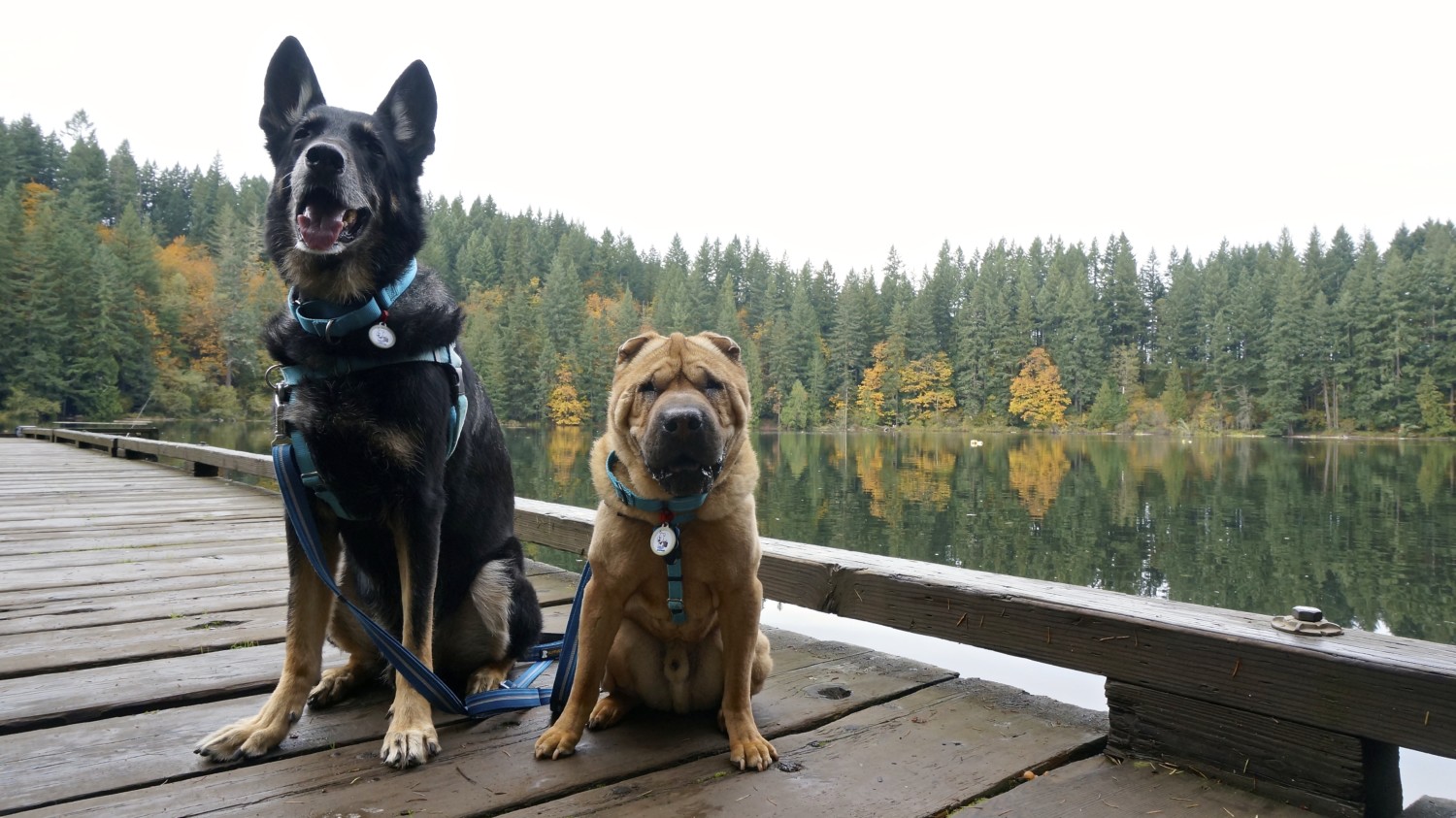 Explore More
No visit to Portland would be complete without seeing the Columbia River Gorge. But there's too much say about the area to include it in this post. So click over to read about the dog friendly Columbia River Gorge!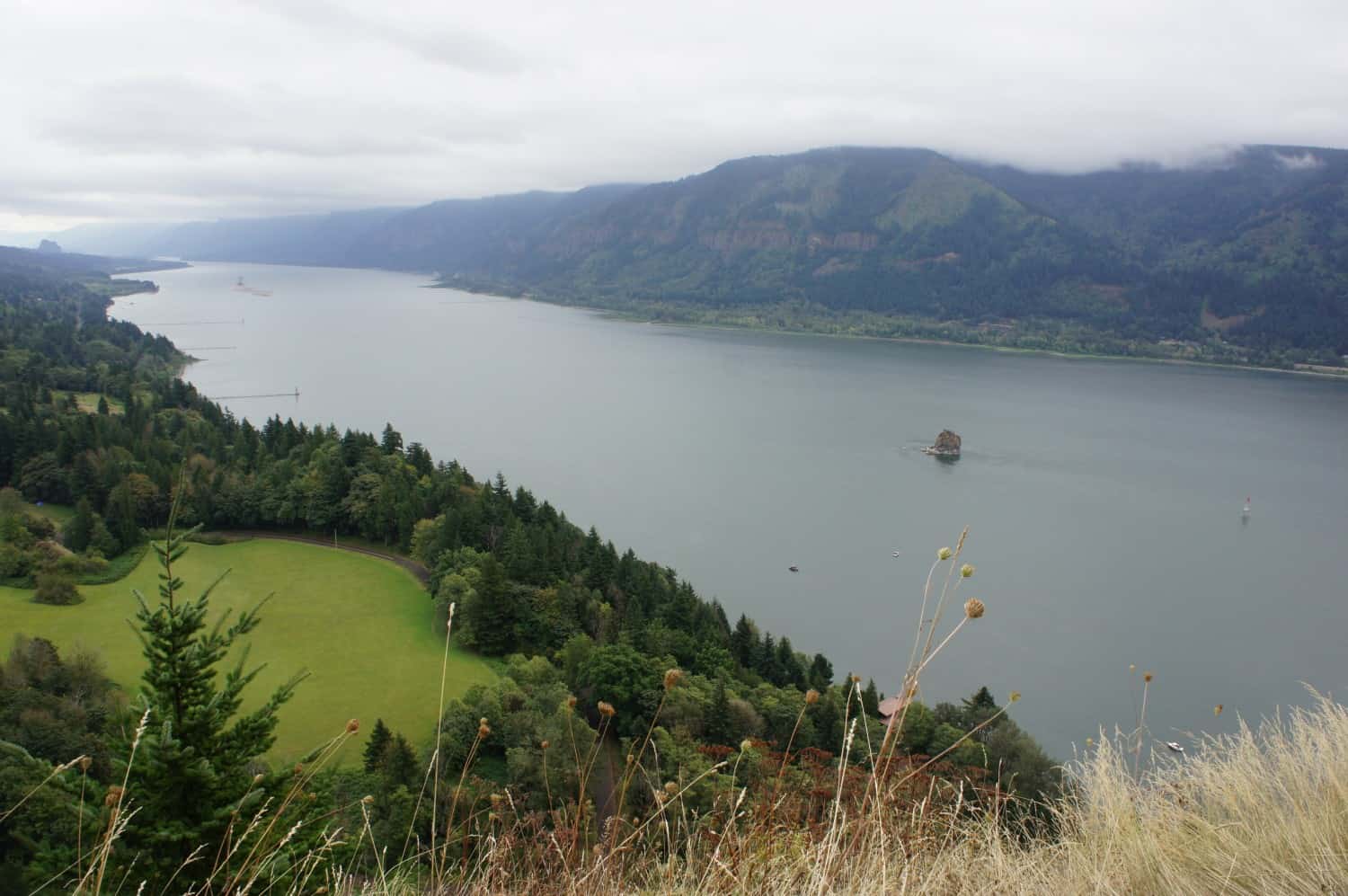 That's just a taste – or maybe a tease – of the many pet friendly parks to enjoy in Portland, Oregon. Let us know about your favorites in the comments below!
(Visited 6,055 times, 1 visits today)


This Article Fetched from www.gopetfriendly.com