How To Make Your Traveling Pet Instagram Famous
Want to make your traveling pet Instagram famous? With consistency, great pics, and the right hashtags, you can do it!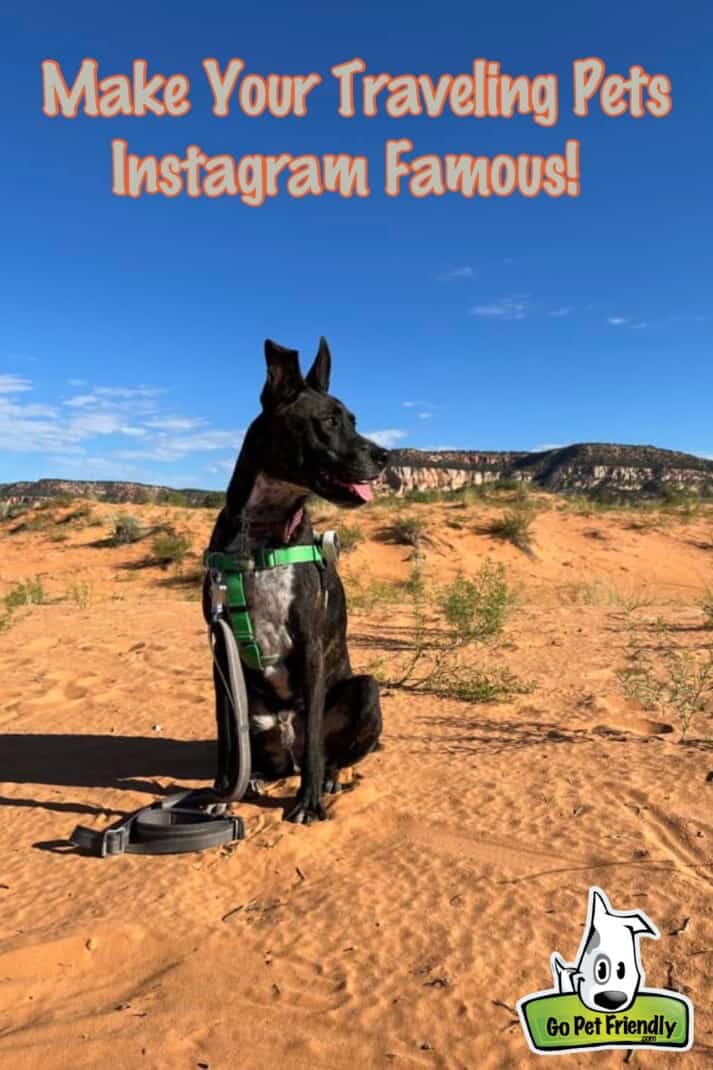 Raise your hand if you love sharing on Instagram!
Since the social media platform launched in 2010, its popularity has exploded. And what started as only a photo sharing site has become a place to catch great video reels, too.
Now people use the site to connect over shared interests. But it's also great place to research places to travel with your pet, and then curate an album of your best travel memories!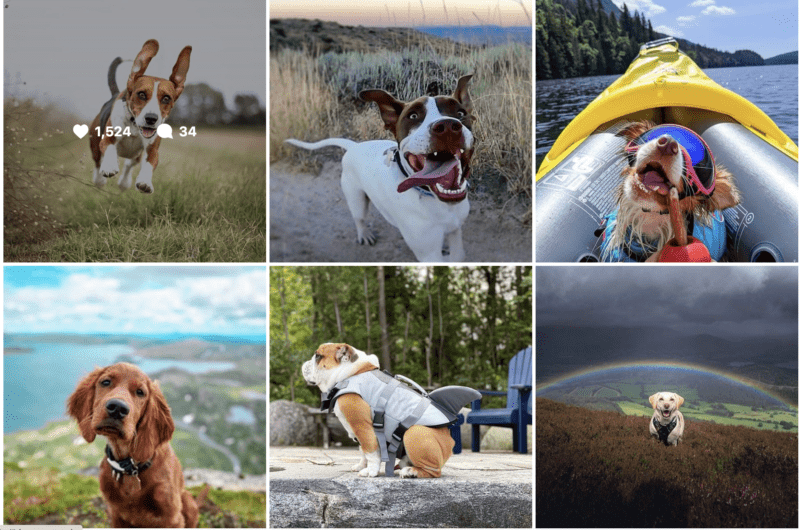 Getting Noticed On Instagram
Instagram is perfect for pet travelers, because we all love sharing photos of our furry travel companions out having fun. According to social media scheduling app Hootsuite, over 1.3 billion people use Instagram every day! And it is the 8th most visited website in the world. That's a huge community just waiting to enjoy pictures of your travel buddies!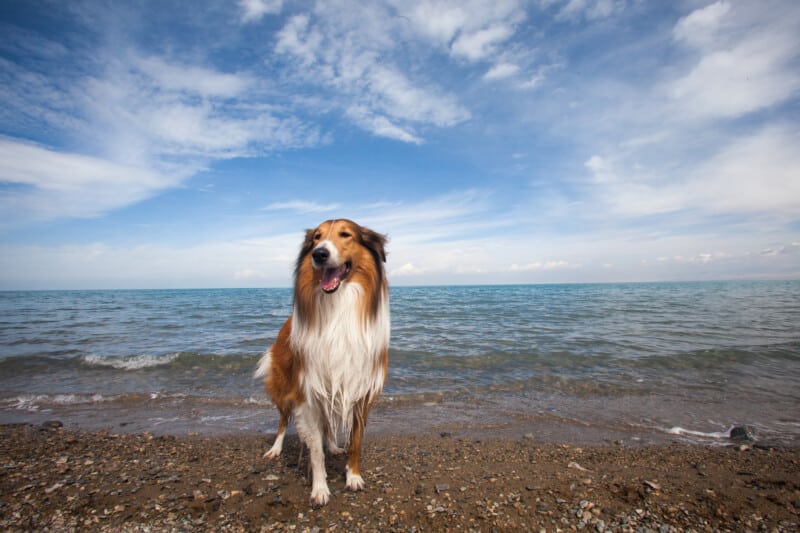 Feature Accounts
But how do you find your community and get noticed in that sea of humanity? One way is to get your photos shared by an Instagram "feature account."
Feature accounts on Instagram typically have thousands – or even millions – of followers, and have been set up primarily to re-post other people's images. By giving attribution to the original poster, these accounts make it easy for their massive audiences to find accounts they'd like to connect with.
You can reach out to feature accounts by following them and using their unique hashtags when you post your photos. But first, you have to find the accounts that focus on topics you find interesting.
From fashion to food, portraits to nature, street scenes to black and white photography, and travel to pets … there's a group for everyone on Instagram.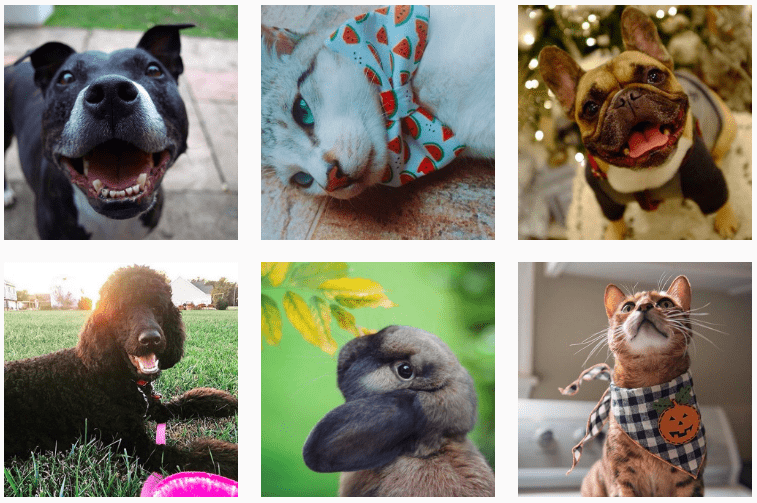 Instagram Accounts Focused On Pets
If you're like us and traveling pets are your first love, we've done the hard work for you! Below you'll find a list of some of the most popular and effective feature accounts focusing on pets. All you need to do is follow the accounts and begin using their hashtags to get your photos noticed. Hopefully they'll decide to feature one of your shots, and that will help you grow your followers.
The list below is by no means exhaustive, but it's a great place to start until you find your own niche. Choose the accounts that share photos and reels that you find most appealing. Then start using their hashtags on your posts when the content your sharing fits their preferred style.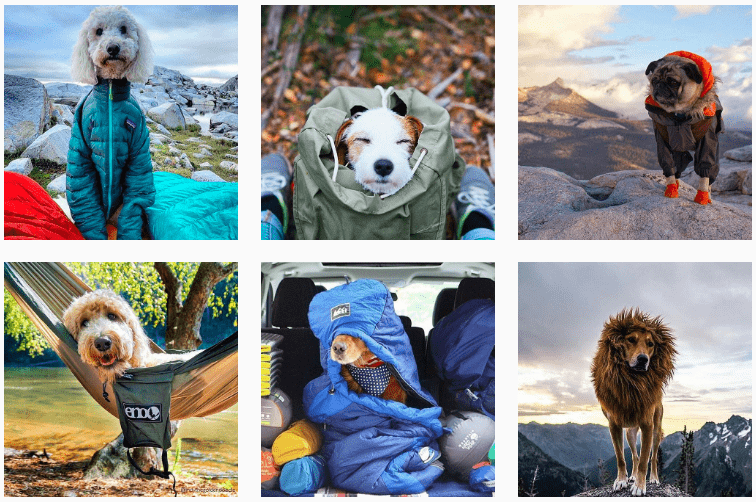 My Feature Faves
This information is current as of March 6, 2023, and is organized according to the number of times their hashtag has been used – the fewer uses, the better the chances your posts will be selected!
GoPetFriendly
#gopetfriendly | Time Tag Used: 26.4K | Number of Followers: 11K
Petstagraam
#petstagraam | Times Tag Used: 104K | Number of Followers: 9K
Dogs of Instagram
#dogsofinstagram | Times Tag Used: 298M | Number of Followers: 5.5M
Puppy Trip
#puppytrip | Times Tag Used: 436K | Number of Followers: 649k
JJ_WeLovePets
#jj_welovepets | Times Tag Used: 547K | Number of Followers: 7K
Dogs Official
#dogsofficialdog | Times Tag Used: 880K | Number of Followers: 134K
Camping With Dogs
#campingwithdogs | Times Tag Used: 1.7M | Number of Followers: 656K
Dogs That Hike
#dogsthathike | Times Tag Used: 2.6M | Number of Followers: 235K
Hiking with Dogs
#hikingwithdogs | Times Tag Used: 3.9M | Number of Followers: 147K
Buzz Feed Animals
#buzzfeedanimals | Times Tag Used: 5.1M | Number of Followers: 719K
BestWoof
#bestwoof | Times Tag Used: 11M | Number of Followers: 396K
.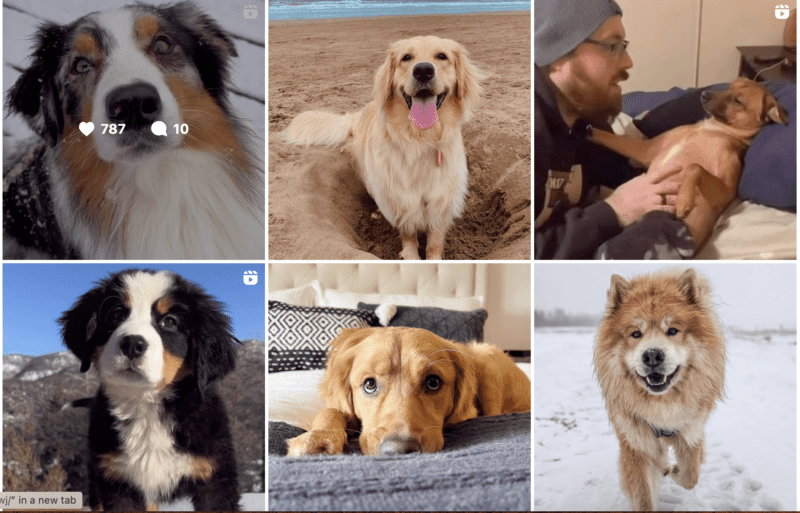 Creating Your Own Tag And Featuring Photos
Another way to connect with people sharing content you admire is to feature other people's phots on your Insta feed. People love having their images shared and, as long as you're doing it properly, re-posting is a great way to make new friends.
To get started, research hashtags that make sense for your account, and choose one that hasn't been used (or isn't used much). Then add a note in your Instagram profile letting people know you'll choose photos to re-post that have included your tag.
A quick word about etiquette–not everyone will want you to share their photos. And while they can make their content unshareable within Instagram, it's best to ask before reposting someone's photos or reels.
When I find a photo or reel I want to repost on the @GoPetFriendly feed, I leave a comment asking for permission to share it. If the person agrees, I ask them to reply using the hashtag #yesgopetfriendly. Then I can search that tag and quickly find those who've opted in.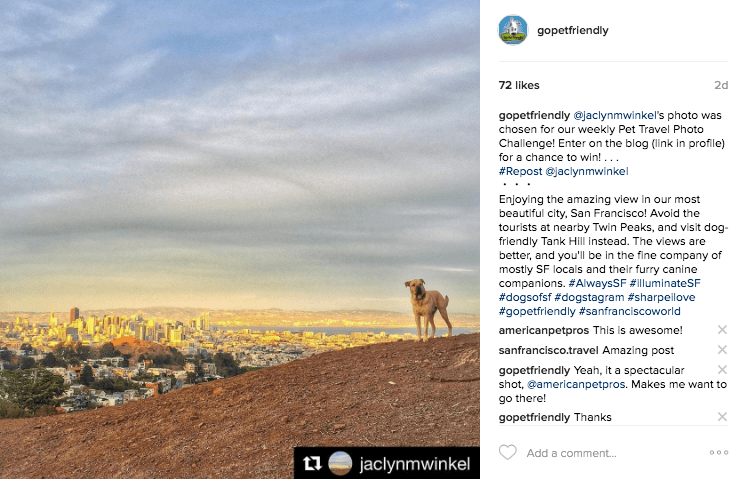 How To Repost
Reposting is easy. Just hit the "paper airplane" icon under the image. Tap "Add post/video/reel to your story." Then tap the right arrow with "send to" on the bottom right. You can choose your own account or other Instagram users.
This method works for both iPhone and Android devices.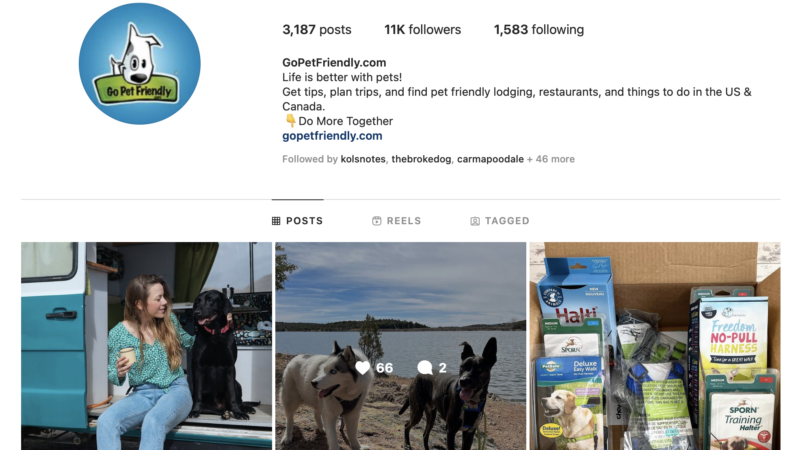 There are lots of ins and outs to reposting. You can edit the photo within Instagram, for example. But I don't recommend it – honor the original poster's artistic choices by leaving the photo as you found it.
If you want the content you repost to be available longer than 24 hours, you'll want to create a highlight to store it in. That will make it visible to your followers until you change it.
You'll find more details about how to do this on Hubspot, along with some helpful illustrations. And don't forget you can also share from Instagram directly to Facebook, Twitter, and Tumblr!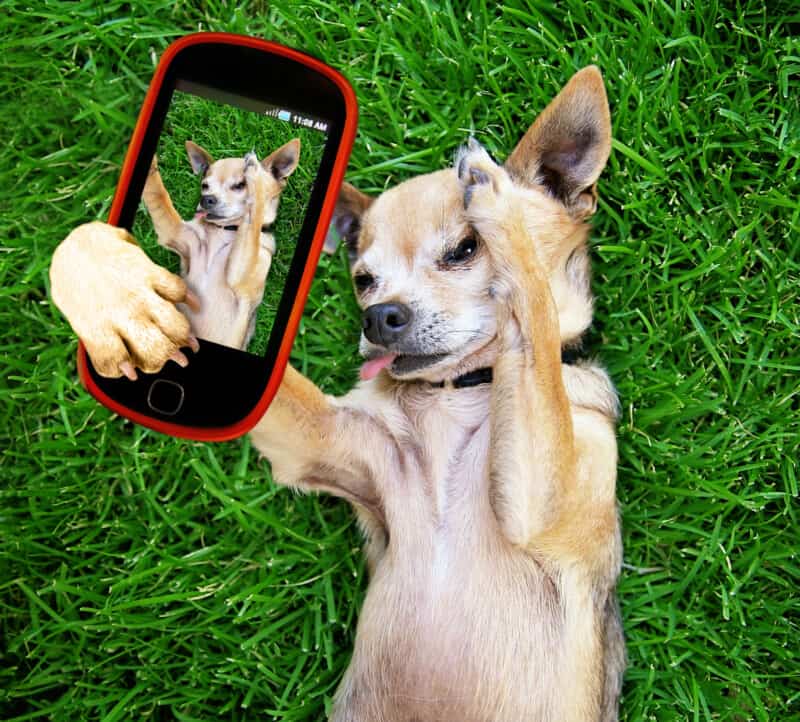 Using Other Hashtags On Instagram
Utilizing hashtags that don't relate directly to a featured account is another way to get additional exposure for your images. Each of your posts can include up to 30 hashtags, so you should tailor yours to attract people with similar interests.
Generic hashtags like #dogs are often so popular that they become ineffective. So consider hashtags like #pettravel, #dogsthathike, and #dogsonadventure to connect with other Instagram users who share your interests.
Our friend Jen at MyBrownNewfies also suggests adding tags for trending topics, like #MarchMadness, to get your photos noticed.
Saving your most commonly used hashtags in an app on your phone, like Evernote or Notes, makes it easy to cut and paste them into the caption or comment area of your posts.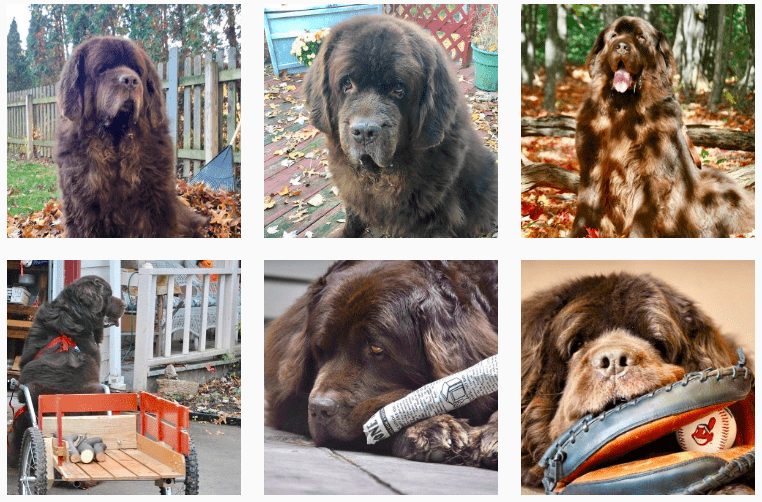 Use Hashtags For Research
Also keep in mind that hashtags can be a two-way street. You can use them to bring attention to your own images or reels. But you can also use them to research places you'd like to travel with your pets!
Searching #grandcanyon or #Miami will help you see what other visitors and locals are doing with their pets. You might even find some good pet-specific geographic hashtags, like #sanantoniodogs or #seattlecats, to dig deeper into pet friendly locations.
And when you post your own travel pics, don't forget to include the hashtag for places you visited and the local tourism offices. You're almost guaranteed to see your content shared!
Instagram Best Practices
Of course, the best way to get your content noticed on Instagram is by using the same good practices you use for all social media.
Be consistent. If you post content regularly, people are more likely to pay attention.
Get to know folks off Instagram–check their descriptions for websites or other social media sites where they hang out.
Write clever captions. You'll get a lot more interaction with a caption like "Winston gives side eye to a moose" than "dog looking at moose out of car window."
Work with your pet's personality. A shot or video of your retriever or cat playing with their favorite ball in front of every site you visit will charm anyone. It's certainly more interesting than a pup looking like they wish they could stop posing and head home for a nap.
Have fun! Because if you look like you're having fun, other will too.
If you have any other Instagram tips you'd like to share, please let us know in the comments!
(Visited 15,712 times, 1 visits today)




This Article Fetched from www.gopetfriendly.com