Super Easy Frozen Watermelon Dog Treats
I love making dog treats, and in the summer making frozen treats is a simple way to help keep your dog cool. And these easy frozen watermelon dog treats are one of my favorites.
If you've got some seedless watermelon, a blender and some ice cube trays you're good to go.
Super Easy Frozen Watermelon Dog Treats
The reason I love this frozen treat isn't just because they're so easy (although that definitely helps), it's because they're softer than ice cubes. Laika's never been a fan of regular ice cube type treats, but she goes nuts over these.
These treats turn out like popsicles, rather than being completely frozen and brittle. They definitely have some crunch, but they're not quite as hard to bite into as ice cubes.
And when it comes using human foods as dog treats watermelon is one of my favorites. It contains lots of vitamins and fiber, and since it's comprised of 92% water it's low in calories.
Just remember, as with any treats moderation is key. Although watermelon is low in calories they do add up, and introducing your dog to any new food can cause stomach issues.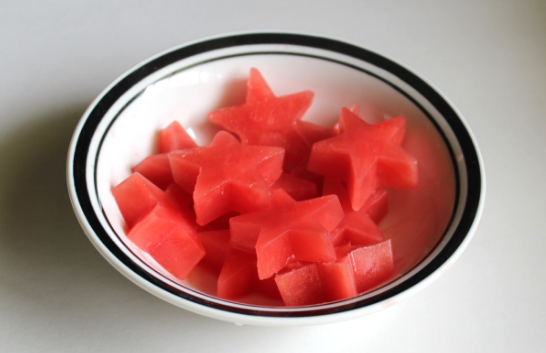 Ingredients
One quarter of a seedless watermelon (3 cups worth).
You can use more or less depending on how many treats you want to end up with. One quarter of a watermelon will fill two ice cube trays, making 28 individual treats.
And the reason you want to use seedless watermelon is because the seeds themselves can cause a blockage in your dog's digestive tract (the rind can also cause diarrhea).
Instructions
Chop up your seedless watermelon into cubes.
Put the watermelon cubes in the blender
Mix the cubes in the blender until they're the consistency of a smoothie.
Pour the liquid into your ice cube tray.
Freeze for 3 hours.
And that's it, that's all there is to it. After they're done freezing you're good to go. You've got a nice refreshing (and low calorie) treat to help keep you and your dog cool in the summer.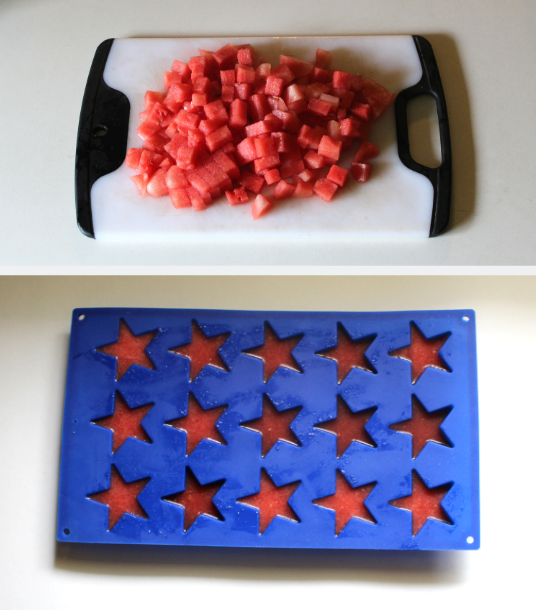 Recommended Reading
If you're looking for more dog treat recipes be sure to check out the following:
Does Your Dog Love Watermelon?
Is your dog a fan of watermelon? Do you enjoy making frozen dog treats in the summer? If so what are some of your favorite recipes? Let me know in the comments below.


This Article Fetched from www.puppyleaks.com